Best hair serum: Hair serum is today one of the most used hair cosmetic products for both women and men, and this is due to the amazing benefits it brings to the hair fiber. In the beginning, this product was only made with the simple objective of providing shine and facilitating styling, reducing hair undulations, but today they have innovated with products that, due to their properties, can simultaneously provide hydration and nutrition.
If you are bothered about your hair health, you will find the variety of hair products that you can choose as the best serum option according to your hair type interesting.
The Best Hair Serums of 2020
Keranique Serum Follicle Boosting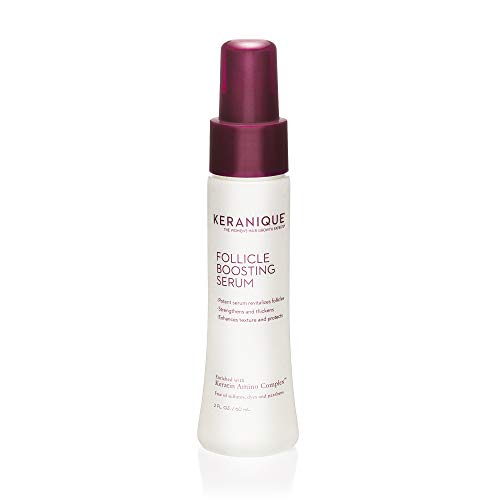 The Keranique Follicle Boosting is one of the best hair serums, and this is because it uses the latest technology based on stem cells and copper peptides, which fulfill the function of nourishing and cleansing the hair in depth. Furthermore, this Hair Serum is a product in which only the best nutrients have been used.
What we like the most
The serum, having in its composition a patented amono-keratin complex, is capable of acting from the inside of the strand and in a complete way, both at the root and at the tips. By having such a profound effect, this moisturizing serum can stimulate hair growth.
The way to apply this product must be in a constant way, every night, without the need to remove it. Since it does not contain parabens or sulfate, you can rest assured that your hair will return in a short time of use to the shine that you want.
One of the great hair problems is hair loss. And, this Serum that applies stem cell technology, aims to regenerate from the inside out, promising amazing results and all this for a very low price.
What we like least
Although it can strengthen and nourish the hair fiber, this product is not the solution for severe hair loss problems.
Simon & Tom – Argan Oil Hair Serum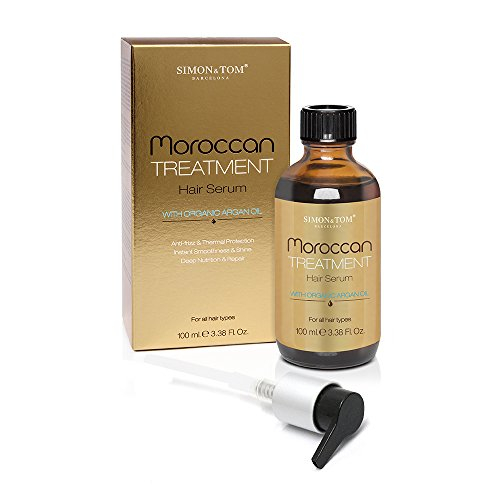 Simon & Tom – Argan Oil Hair Serum is an intense treatment that has been developed based on pure organic Argan oil, which has been combined with essential oils to restore damaged hair, hydrate, and protect it.
What we like the most
It does not have silicones; that is, this Serum has an organic composition that will not leave any residue that could impede the correct oxygenation of the hair fiber.
It restores the hair fiber regardless of the type of hair you have, whether straight, curly, fine, thick, dry, or unruly.
In its composition, pure organic Argan oil is found as the main ingredient. This oil is a powerful damage repair that allows the hair to hydrate and nourish in a concise time of application.
What we like least
It is necessary to know the exact amount in which the product should be applied to each type of hair.
L'Oreal Expert Professionnel Hair Serum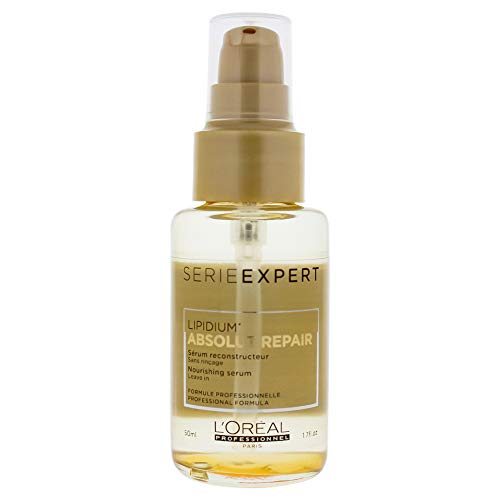 If you need to get a Serum that is the solution to split ends, then an option would be the Expert Professionnel Absolut Repair Lipidium. This product from the famous L´Oreal brand promises to repair the ends of long hair, from its first use. Another of its advantages is that it leaves the hair much brighter and more manageable.
What we like the most
If you have problems with badly damaged hair due to the effects of the dye, bleach, or other aggressive product, the way to remedy the damage is with this powerful professional Serum.
This professional repairer not only straightens the hair, but it also protects it from possible damage that may affect the appearance of the tips.
The texture of this product is not unpleasant; on the contrary, it is very silky and not greasy.
What we like least
Although the effects can be seen from the first application, it is with a constancy that the repairs can really be appreciated.
Davines Hair Serum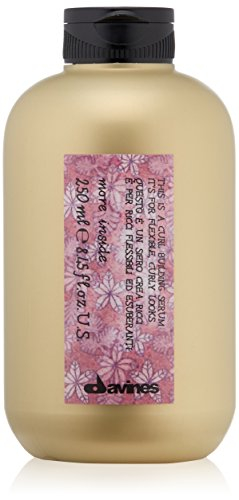 Other products that you could consider as a new ally for your hair are the Davine's Serum, More Inside Curl Building. Ideal for people who have curly hair and want a product that hydrates, strengthens and restores natural shine.
What we like the most
The use of it can be before applying any treatment in which heat is involved, as this Serum acts as a thermal protector.
There are many types of Hair Serum on the market, and the price always varies. With this product, you can have excellent results for an affordable price.
What we like least
When applied, the hair is shiny, but, for permanent effects, it cannot be used only once.
Gliss Fiber Therapy – Biphasic Serum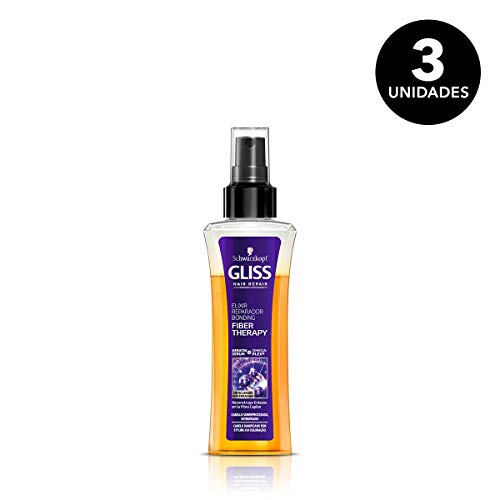 The composition of the Gliss Fiber Therapy Biphasic Serum has been inspired by those women who always like to beautify their hair and who use dyes, dryers, and irons to do so. This product is made from active ingredients such as liquid keratin that strengthens, protects, and restores the hair fiber that suffers so much when exposed to heat.
What we like the most
By using this innovative biphasic serum, your hair will once again have the natural shine it has lost due to chemical treatments and exposure to heat, and this is because its composition contains the best natural oils that repair and give it shine and softness.
It is a part of a high range of hair products. However, the price is affordable and affordable.
The brand is recognized, which gives its users greater peace of mind when using their products.
What we like least
For greater effect, it is necessary to complement the treatment with other products from the same range.
Wella Sp Serum, Hair Oil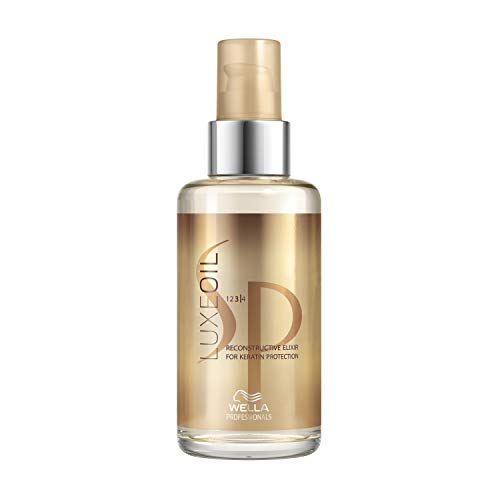 As part of this selection of very good quality serum, Wella Sp, hair oil has been recommended as the best hair serum. This is a treatment that has positive effects thanks to the properties of natural oils. In the market, it is one of the most requested hair serum. Because it manages to meet the needs of users in an organic way.
What we like the most
In its composition, 4 powerful types of oils have been mixed: argan oil, jojoba oil, camellia oil, and almond oil; for this reason, the Serum nourishes and protects the hair structure from inside the fiber.
Many oils can only be applied to damp hair. But this is not the case, the compound can be used on both wet and dry hair.
What we like least
This Serum includes alcohol in its composition, which affects the health of the scalp in some people.
Amla Oil Serum, Hair Tonic
There is no better and safer way to care for your hair than with products made from organic components. In this way, you can guarantee that your hair is not being saturated with chemicals that will ultimately be harmful to your health and appearance. Amla Oil is a very different serum for its organic composition.
What we like the most
It adjusts to your hair needs, and it has the ability to hydrate, regenerate, and protect your hair, restoring shine.
It is a Serum with a single presentation of 300 ml, which can be obtained for a really affordable price.
In its composition, you will find mineral oil, Indian gooseberry, and original fragrance with the goodness of Amla.
In order to have the benefits of this product, it is not necessary to apply large amounts, with just 10 ml it is enough.
What we like least
As it is a serum-free of chemical products. In order to see the results, it is necessary to use it continuously.
Frequently Asked Questions about Hair Serums
What is a Serum for hair?
They are liquid lotions or light creams, which have a concentrated formula with a certain amount of specially selected assets to improve the health of your hair. In general, the composition is based on organic oils that have the properties necessary to repair hair damage.
The constant application of the capillary serum can serve to give a solution to damaged hair, and with split ends, one of the most outstanding characteristics is that it is used as a treatment for dry, discolored, or highlighted hair.
How are hair Serums classified?
Aesthetic serum: it is that serum that has the main objective of improving the appearance of the hair. For example, those that are used to reduce curls, smooth curls, or facilitate styling.
Nourishing and repairing serum: its main purpose is to give your hair a second chance, closing the ends or strengthening it.
Can the Serum be used on dry hair?
Although applying it to wet hair is much more beneficial, there is no contraindication if applied to dry hair. Of course, in this case, it is recommended that a smaller quantity be used than is normally used.
The Serum protects the hair from external agents. How?
Products such as Serum aim to protect hair from the agents that damage it the most. For example, dyes, environmental contamination, solar radiation, irons, curling irons, and hairdryers, among others.
How is the Capillary Serum applied correctly?
Apply small amounts of serum from the tip-up. You must distribute it throughout the hair so that your strands can absorb it without complication.
In case you want to give texture and volume, the correct way to apply it is from the inside out. And with your hands, you will comb it until you get the effect you want.
Another way would be to apply the product to the scalp by briefly massaging it. And then spread the product over all of the hair. This last way is ideal if you have problems with falling or dryness directly at the root.
Does it matter the amount of product that is applied?
If it matters, in the case of Hair Serum, you should know that this is a product that does not work for the quantity of product you apply. But for the quality of the one you choose. Just applying small amounts of the product is enough.
Also Read: Benefits of Curry Leaves – What is it, How Do you Prepare Curry Leaves?