Came across a lot of hair serums, right? They make your hair shiny, look well managed, less frizzy, and whatnot! But, what about having the same for your face? Would you like to restore the properties of your face with the help of beauty care?
The market is buzzing with such beauty care products- SERUMS! Your skin deserves and needs a balanced diet just as your body appears and is healthy from the inside.
This is how serum works! It helps the skin to restore its properties from the inside and not only it appears healthy but becomes healthy. One such serum that has taken over the market is Retinol Serum.
What is Retinol?
Retinol is a type of retinoid that is derived from vitamin A. Dermatologists and beauty bloggers often recommend retinol-infused products as a great way to care for your skin. In addition to providing certain skincare benefits, this product is affordable as well.
It is the ingredient that the dermatologists and skincare experts have rated as the No. 1 ingredient for Anti-aging issues. However, this does not mean that it is limited to people facing this issue or who are prone to aging.
Besides addressing the aging skin issues, retinol can help in dealing with a lot of other skincare troubles that individuals in their early 20s face- acne, sun damage, pigmentations, sunspots, dullness, and much more.
Do you know how or why your skin is firm and tight when you are young? It is all because of the collagen development that keeps the skin cells together and makes them appear young, firm, and healthy. However, as individual ages, collagen development reduces- consider it almost stops. Further, it results in the sagging of skin, wrinkles formation, fine lines appearance, pigmentations, age spots, etc. start to appear.
Therefore, if you give your skin something to stay strong with, your beautiful skin will not only last in your 20s but also your 50s! If Retinol is so helpful and benevolent, why not make age just a number and accept it gracefully?
Why Serum?
Serums are comparatively more concentrated than creams. The creams have other ingredients that minimize the effects desired from one particular ingredient. Whereas the serums are focused on one ingredient and they are absorbed by  the deeper layers of the skin to bring out the desired effects.
Things to Consider Before Buying
Research and a piece of thorough knowledge about a skincare product are necessary. Because you are what you eat and so your skin is what you apply! To choose and buy the best serum for yourself, you have to understand your skin profile and what it needs.
However, before making a final decision, let us look at some of its benefits:
Retinol helps in managing aging signs of skin like wrinkles, fine lines, and age spots, etc., as it works to boost the collagen development of the skin.
Retinol also neutralizes free radicals on the skin to help protect it from further aggravating skin troubles.
Retinol even fades out the blemishes, and pigmentations, and acne- a problem faced by people of all ages.
Retinol also potentially helps to unclog the pores, which helps in clearing up breakouts or preventing pimple formation.
Retinol helps to reduce the appearance of pores.
Retinol has the potential to speed up cellular turnover meaning that old skin cells shed sooner, revealing healthy new skin. Retinol, therefore, helps to make skin look brighter and fresher with regular use.
Your Ideal Search Ends Here 
Looking for the best Retinol serum for the face? Your quest ends here!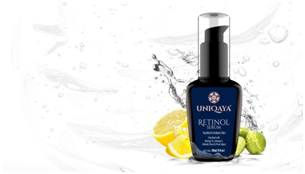 Uniqaya Skin Plumping Retinol Serum has the power to soothe and moisturize the skin formulated with an active level of 1% encapsulated retinol which penetrates the deeper layers of your skin.
It helps in stimulating new collagen production in the dermis and increases the cell turnover in the external layers of your skin.
Uniqaya Retinol Serum is enriched with the goodness of plant-based ingredients such as Aloe Vera, Cucumber Extract, Kakadu Plum, Lemon Extract, Pearl Algae, and Perfection Peptide that help reduce the pigmentation and acne marks, providing your skin the much-needed hydration boost.
Uniqaya products are non-toxic, not tested on animals, and unadulterated without the use of parabens, sulfates, and synthetic fragrances.
How to Apply Retinol?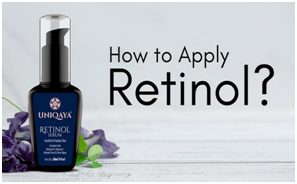 Now that we have covered most about serum, applying the serum is a tricky task too.
Cleanse First
Before applying the serum or any product on your skin, it is essential to cleanse the skin and make it fresh. It is preferred to use cold to warm water to cleanse your face.
Pat into the Skin
Take a pea-sized amount of Retinol serum into your palm and apply it on your face in little dots evenly on your face and neck.
Gently Massage
Gently massage in a circular motion, avoiding the eye area until it is completely absorbed.
Follow up with your Skincare Routine
It is advisable to use retinol serum at night as it makes the skin overly sensitive to the Sun.
Conclusion
Choose Uniqaya Skin Plumping Retinol Serum, an encapsulated form of Retinol that penetrates into the deeper layers of skin and acts inside out. So, the skin not only improves its appearance but also makes it healthy from within.