Stylish Sweaters: Are you a winter person? Do you want to dress up stylishly along with keeping yourself warm? The usage of sweaters can help you get the solution for you. Just imagine wearing a sweater and walking on the roads to reach your office in a cool breeze. Feels so good, right! Know that if just an imagination gave you so much thrill and excitement, the reality of wearing a sweater could give you a great experience with a cozy feel.
Sweaters are nothing less than a costume. They are equally trending these days. Sweaters for women are designed in many styles, including printed sweaters, soft fabrics, bright colors, pastel colors, muted colors, oversized designs, and many more.
Let's dive deeper into the topic. Several types of sweaters are available in the store today. Take a look, get an idea of every kind of sweater, and choose the best one that suits you more.
Types of Stylish Sweaters:
1. Oversized Sweaters:
The oversized sweater is designed to be the bigger one; you feel light and happy when you wear it. The size does not matter for these oversized sweaters. You can pair this sweater with jeans, short skirts, and skinny pants.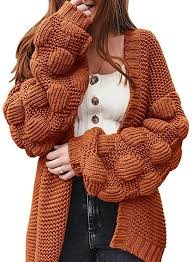 2. Crop Sweaters:
These have been the trendiest ones for many years. These have remained the same till now; they will take the top place in the list of sweaters. You can match up this crop sweater with your comfortable skinny jeans or enhance the entire look can wear it on a sleeveless dress.
3. Embellished Sweaters:
Embellished sweaters are manufactured with rhinestone, embroidery, fur, patchwork, and crystal embellishments. You can use it for night parties as it looks super cool and keeps you warm. It gives you a luxurious party look with these sweaters.
4. Sweaters with Extra Long Sleeves:
These are specially designed to have extra-long sleeves. This means that the sleeves can cover up to half of the palm.
5. Puffed Sleeve Sweaters:
Do you want to add some stylish elements to your sweaters? Then, it would be best if you opted for puffed sleeve sweaters. This adds an elegant look when you wear it. These are also considered trendy sweaters and fashionable ones.
6. Cold Shoulder Sweaters:
Do you want to experience the feeling of being warm and, at the same time, enjoy some slight chill breezes? Then, choose the cold shoulder sweaters as they have a little cut-out on the shoulder part. These are equally trending as well. These sweaters will remain a romantic trend that is best suitable for your evening and night dinner dates.
7. Cape Sweaters:
These are worn for casual winter outings where you can pair up with jeans or leggings.
8. Ruffle Sweaters:
We are all aware of the style of ruffle dresses, ruffle tops, and all. Now the ruffle trend has started booming in sweaters. This ruffle-style sweater has a vast fashion element. This sweater gives you a great result by delivering a trendy look for the winter season.
Conclusion:
Whatever type of sweater you choose for all gives you the one common feature, that is, it keeps you warm and cozy. Now you have an idea about the type of trendy sweaters, then what are you still waiting for? Browse for the best sweaters for women and purchase a high-quality sweater. Login to Glamly that provides top-notch quality products to satisfy all customers' needs and requirements. Buy a sweater and keep yourself cozy and comfortable.