If you're looking to incorporate a touch of glamour into your wardrobe, white wide-leg jeans are the perfect way to do it! These fashionable trousers make an eye-catching statement and can be dressed up or down for any occasion. Read on to learn more about how to style wide-leg white jeans for any look.
Show Off Your Unique Style with White Wide Leg Jeans
With white wide leg jeans, your outfit will instantly become more unique and stylish. These trousers are perfect for bold fashionistas who want to make a statement. Whether you pair them with a classic t-shirt and blazer, or a cute crop top and ankle boots, white wide leg jeans are sure to turn heads. Best of all, they're easy to dress up or down depending on the occasion – perfect for everything from casual everyday looks to special events.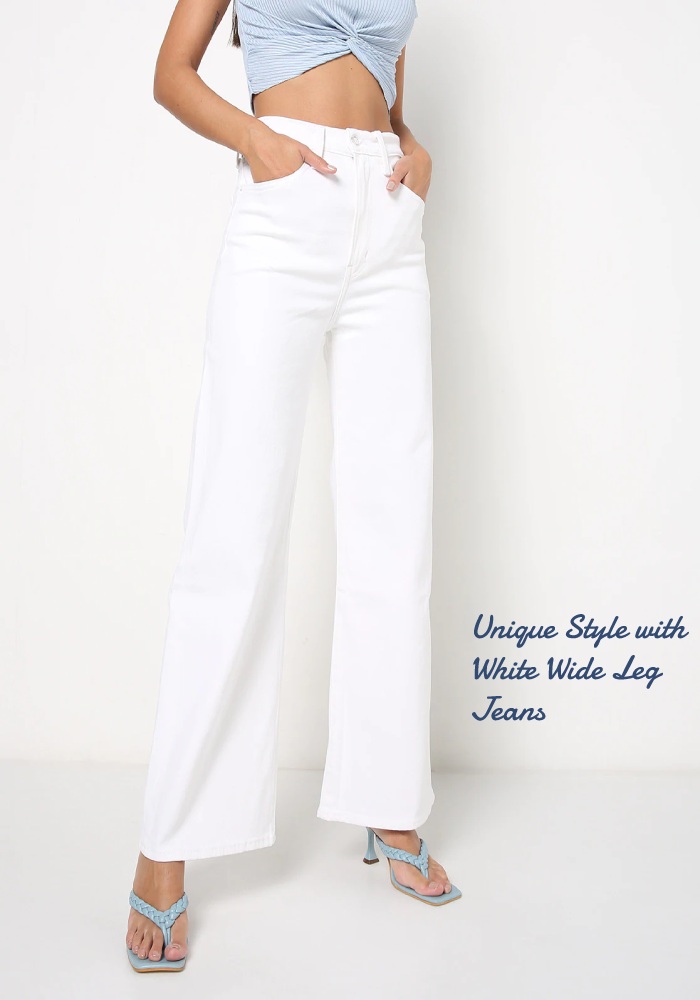 White wide leg jeans are also extremely comfortable. They offer a roomy, relaxed fit that's ideal for long days on your feet. Plus, white denim is surprisingly versatile. You can create casual or dressy outfits with the same pair of jeans, depending on what shoes and accessories you choose. Wear sneakers, sandals, heels – whatever your style calls for! Show off your unique fashion sense with white jeans today and make any look more eye-catching.
The Best White Wide Leg Jeans For Every Body Shape
The best white wide leg jeans for every body shape actually depends on the different body type and these jeans will surely enlighten your style game and flatter your body type. And, there is no doubt that all body types are fit to rock with white jeans. Following are the best white wide leg jeans that suits to the particular body type.
Curvy body type: These are best for the curvy body with rocking curves all over.
Tall body type: These white jeans are the best for those with the perfect height that would add great flair to this advantage.
Petite body type: These jeans perfectly match the ladies with a shorter height around 5'3 and under.
Flat booty type: If your butt could use a little pep. A pro tip for adding a bit of pop? Look for styles with pockets that sit a little higher than your average jean to give the illusion of more shape.
How to Wear Wide-Leg Jeans for petite frames?
For petite frames, the key is to look for white denim with a high rise. This elongates the leg line and helps create a lengthening effect that'll keep you looking tall and lean. Look for jeans with a cropped hem that sits at your ankle – this creates an illusion of longer legs in proportion to your body. To finish off the look, pair with a heeled boot or sandal to further create height.