When it comes to the best vitamins to take after bariatric surgery, there are a few different things you want to keep in mind. First, make sure your post-op diet is varied and balanced with plenty of protein and nutrients. Second, don't forget that you need certain vitamins for optimal health post-surgery. Third, stay away from vitamin supplements with high doses of iron as they can be harmful or fatal if taken improperly following surgery.
Use these tips when picking out the best vitamins for your body after bariatric surgery! Many patients opt for the bariatric advantage vitamins since they are easily resorbable, don't cause irritations to the stomach lining, and prevent vitamin deficiency!
What to expect after bariatric surgery?
It is recommended for you to start taking vitamins a couple of weeks after the surgery. Bariatric surgery is draining to the body, like any surgery. That is why your body will need some rest. There will be lots of changes post-surgery.  For example, you won't be able to eat as much as you used to. At first, you'll only be able to consume small amounts of food at a time, liquid and soon after solids as well.
Because you're going to adapt to a new lifestyle, you need to make some food changes as well. Because of the small amounts of food that you take, it's really common to develop some kind of vitamin deficiency. The key here is to not let it get too serious. If you catch the symptoms on time and implement the right diet, the deficiency will clear itself up almost immediately.
The types of vitamins you can take after bariatric surgery
As soon as you get your doctor's clearance, you're free to start taking vitamin supplements.  The most common vitamins and supplements are Vitamin C, B6, D, B-complex, Iron, Magnesium.
Vitamin B6
It's one of the eight B vitamins. Vitamin B6 is extremely important for our nervous system, as well as our metabolism. It helps turn the food into energy, and it feeds our brain. Extremely important post-surgery.
Vitamin B6 makes the post-surgery swelling around the wound heal faster. Also, it helps the puffiness go away. B6 aids with reducing inflammation and promotes quicker recovery.
Vitamin D
This is a vitamin that the body produces. It is fat-soluble and if you spend some time in the Sun, that should do! There are many foods in our normal diet that are rich in this vitamin. Post-surgery, vitamin D helps with bone healing and muscle repair. Even though you won't need your bones to heal after bariatric surgery, your muscles will surely need some rest.
B-complex
B-complex is actually a combination of all the B vitamins. Because of that,  it has many benefits. For example, it promotes cell health, improves vision, elevates energy levels, and helps with anemia in certain cases. The B-complex is extremely important post-surgery for the same reasons why vitamin B6 is important.
Vitamin C
Vitamin C is a water-soluble vitamin that acts as an antioxidant. It is proven that it protects cells from harm. Post-surgery, Vitamin C is really important for wound healing, since it supports the production of collagen in the body.
Vitamin C is found in many citrus fruits and some vegetables, so we're getting it enough by having a balanced healthy diet. But, you can always grab it from the nearest pharmacy and usually, it is consumed no more than 1000g a day.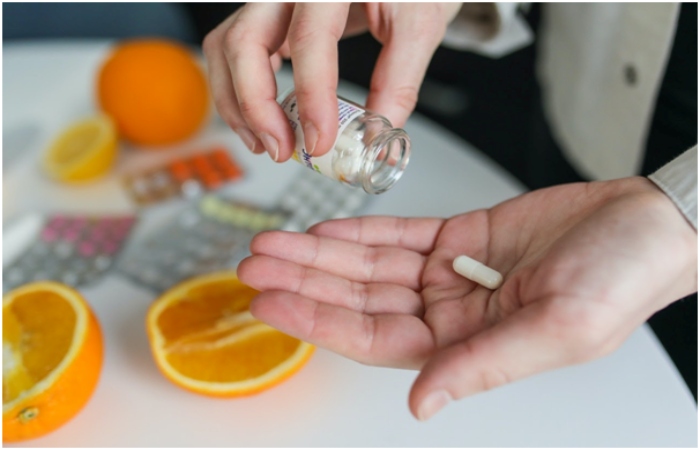 Iron
Iron is not a vitamin, but it's a very important supplement that you should take post-surgery. We mentioned that you shouldn't take too much iron, but amounts that your doctor prescribed are completely fine to consume.
Iron has many benefits to the body, the main one being that it helps with carrying oxygen to every single cell. It also transports the CO2 from the cells to the lungs. Iron is found mainly in red blood cells, and if there are sufficiencies in the body, the most likely outcome would be anemia. To benefit from iron intake make sure to avoid drinking coffee sometime after you've taken the supplement.
Magnesium
Magnesium is your muscles' best friend. It gives them all the energy they need, as well as the much-needed nutrition. Other than that, it promotes healthy nerves, and it helps with the production of energy for the body. After surgery, consumption of Magnesium can reduce opioid consumption in the first 24 hrs.
Summary
No matter what type of bariatric surgery you had, we're sure that you'll love the outcome. Your body will thank you later on because you made the biggest step towards a healthier you. If you want to recover quicker and better, you need to follow the advice that your doctor gave you, and to make sure that you're getting all the nutrients and vitamins that you need.