We love the solid shampoo. And we could say that it is something like a bar of soap but for hair, simple, ecological and natural! Its effectiveness is identical to that of the liquid format and has numerous advantages that not only positively affect the health of the hair. Do you know how it is used? Discover our guide!
A good natural solid shampoo is essential for our hair to look good and healthy. It must hydrate and protect our scalp in addition to the hair fiber. But that is not all, solid shampoo is good for hair, for your health and also helps your pocket and the environment. So everything is an advantage!
Solid shampoos are Environmentally and Health-friendly
As you hear it, using solid shampoo is good advice and a better option not only for your health but also for the planet. In the supermarket, we can find hundreds of hair products, but not all are equal or healthy. If you are one of the people who have bought a new shampoo and have been happy at first, but you end up buying another and a different one because its effect disappears, you should know that it has a reason:
In many of the conventional shampoos, you will find silicones, parabens, sulfates, and other substances that give a false feeling of health. Not only that, but they also cause a feeling of caking, irritation, dryness, itching, and peeling of the skin.
On the other hand, we are more and more people aware of the planet. That is why we bet on organic natural cosmetic options such as solid shampoo because it goes without plastic. It is healthy for us and the ecosystem, without oil derivatives and with a minimal environmental footprint. A healthy alternative to eliminating the use of plastic bottled hair products that are harmful to hair, scalp, and the planet. Without any doubt, it is the best option. You did not know?. Well, we explain much more below: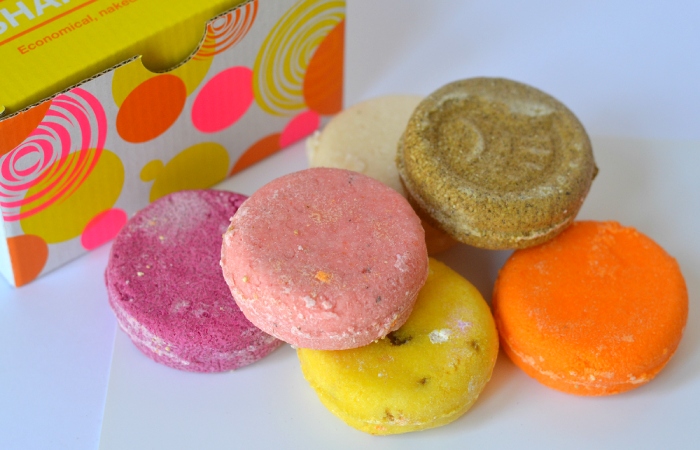 Main Advantages of Natural Solid Shampoo
Among some of the most practical ways to switch to shampoo in pills you will find:
Forget about airports with solid shampoo: you surely know the dilemmas of what to put in the suitcase or in the vanity case if the product is liquid when you get on a plane. With solid shampoo, you know that inside the suitcase, it will not explode or spill. The best thing is that you can get it on the plane without problems because it is not liquid. Besides, there are cans to store solid shampoo that will facilitate transportation.
It weighs very little and takes less: depending on the solid shampoo tablet, it can be equivalent to more than three bottles of liquid shampoo. You will see that you will notice it in the weight of the shopping bag in the supermarket! Also, you will gain space for other things, because apart from the volume, they stack more easily.
It lasts longer and is more economical: solid tablet shampoos last much longer than bottled ones. As we said in the previous point, a single tablet of solid shampoo can be equivalent to three times that of a conventional bottle. Each tablet lasts between 60 and 80 washes. Therefore, although it may seem more expensive on the first purchase, in the long run, it is a saving.
It also has these other benefits:
Without plastic: by not carrying a plastic container because it is solid, we help the planet. You are saving tons of plastic and CO2 in its transformation and transport! About 5 million shampoo containers are produced each year, which are about 142 tons of plastic.
Buying solid shampoos saves unnecessary packaging, and so you try to live without plastic, or at least, it helps to reduce waste. Have you never considered a zero waste or zero waste alternative in your bathroom?
How to use Solid Shampoo?
In short, it is used as if it were a gel as it is just as easy to use: moisten and rub the solid shampoo tablet in your hands or directly on the head. Massage gently and finish rinsing with plenty of water.
Although the 'How to' is very simple and it will not take more than 10 minutes, here we explain some keys for good use: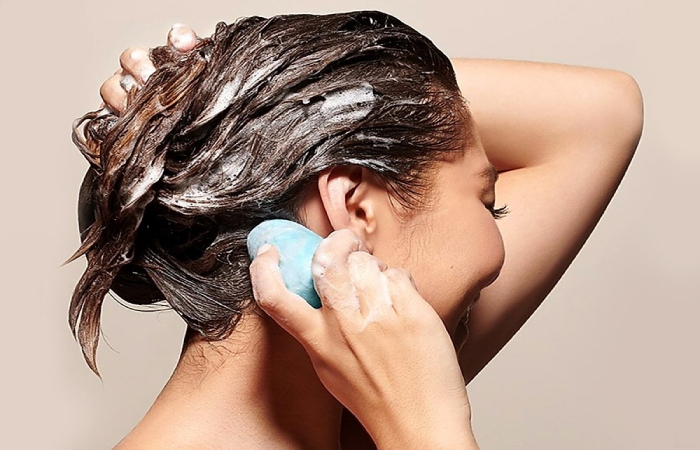 Rub the tablet of your natural solid shampoo with water: directly on well-wet hair or between wet hands to generate foam and better in the direction of the growth of the mane to avoid tangles.
Try to massage your scalp: as you would do when using a liquid shampoo as well as the solid one. Thus, you help the assets penetrate deeply and promote blood circulation.
It clarifies thoroughly: for this, you should be doing the same massage but this time only with water to drag the dirt and the remains of the shampoo.
Apply a conditioner if appropriate: it will help you detangle your hair, comb it better and avoid breakage. Better if it's a totally natural solid conditioner.
Let it air dry: you mustn't leave it with water and in a place where it dries so that it does not melt with moisture.
Also Read: Chakrasana – Health Benefits, Procedure to Practice the Wheel Pose and More