Losing redundant fat isn't just about looks but there is a psychological boost that comes with it. Today many people are struggling to eliminate fat from stubborn areas such as the belly, waist, and thighs. Shedding excess fat comes with its hurdles. Eating healthy and getting plenty of exercises may not always work in your favor. But don't worry! There are various cryo slimming processes that have been recently introduced to ease your load.
Read on the blog to know more about slimming machines.
What are ultrasonic slimming machines?
Ultrasonic cavitation machines use high-frequency sound waves that are not audible to you. These sound waves penetrate deep and get delivered to fatty tissues. When they reach the treatment area, they generate microbubbles around the fat cells. These bubbles expand and burst and at the same time pop the fat cells and deflate all the fatty material trapped inside them. Once all the fat cells are deflated, the debris is flushed out of the system by the body's natural extermination mechanism, leaving just contours behind.
It's important to note that results may vary from individual to individual. You may not lose weight that you intended only after the first treatment. For some, it takes a day, for some weeks, and some it is months. But 'patience' is the key. Even if you lose an inch, you feel more confident. Don't forget to complement slimming machines with a healthy lifestyle and regular exercises.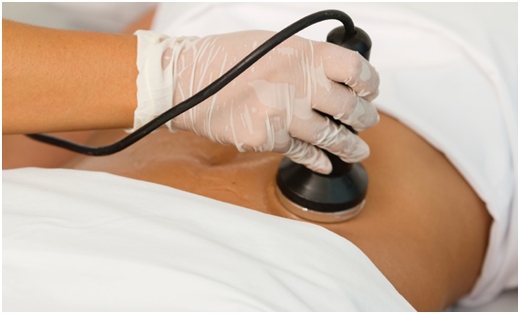 What are the benefits of an ultrasonic slimming machine?
They are versatile: The slimming machines can be used on almost all parts of your body where you carry extra fat. Some of the common body parts include the abdomen, knees, thighs, and buttocks. You can also treat smaller areas like the chin and upper arm.
It is non-invasive and natural: Slimming machines use ultrasonic waves that safely dislodge the fat cells without damaging surrounding parts. Besides, they don't require any surgical treatments to treat the problematic areas. You only have to slide the machine onto the skin to get your fat melting.
It is painless. Since there is no insertion of an instrument, one feels no pain during the treatment. All you experience is a mild tingling sensation or redness that fades away after a while.
It is safe: Since the treatment involves zero side effects, many have involved it in medical purposes. This treatment has proven to be extremely safe when compared to its other counterparts.
The treatment is quick: You don't have to spend hours burning your fat. The therapy takes only 20-40 minutes of your time. You can either take it during your free time or lunch break. To make the treatment more effective, drink plenty of water during the treatment.
The results are effective: As mentioned earlier, the results may vary but the results are definite. When your diet and exercises fail, the therapy gives the sure-fire way to lose weight. Remember, depending on your body type and nature, the treatment takes six to twelve months to achieve the goal.
It improves skin texture: The Ultrasonic slimming machines treat the skin's deep layer called 'dermis.' The heat stimulates collagen production and that combats wrinkles and fine lines by lifting them. Therefore, many use slimming machines not to lose weight but also to improve their skin.
It is easy to use: Using a slimming machine is extremely easy. You don't need to possess extra skills to own it. Follow the below steps if you are a beginner and don't know how to go about it:
Plugin the device.
Press the "POWER" button to turn on the device.
The device comes with a speed setting. Keep it to 'LOW' in the beginning and gradually increase the speed once you get comfortable.
Do not stay in one place for too long.
Turn off once it is done.
Time for different body parts
Abdomen- 20 minutes
Chest- 10 minutes
Hips- 20 minutes
Thighs- 20 minutes
Arm- 20 minutes
Crus – 20 minutes
Jowls- 5 minutes
Want to add a better and effective way of losing weight? Your weight-loss regimen is incomplete without it. Click here to know more.