Clothing, particularly fashion has always been big business for the UK population for the past few decades. Something that accounted for over 80% of the economy's exports from the British Isles, has now taken over almost all retail sectors and is thriving even with shops and retail stores being closed during the COVID-19 pandemic. It is one of the largest creative industries in the world and has generated over £26 billion in the economy, not to mention over 800 000 jobs across the various UK regions.
According to the British Council, this alone has been a tool of influence amongst over 30% of the young population in the country, creating high value to society. Read here for more about the statistics.
Two main factors contributing to the UK economy and its growth, concerning the fashion industry include:
The demand and desire created by some of the top UK designers, and the influence it has been having in the mainstream markets for instance department stores, retail stores, and supermarkets.
The expansion of the various brands into other products such as homeware, perfumes, and accessories.
I like all those famous fashion designer, like Coco Chanel, Gucci Bags, Marc Jacobs, Ralph Lauren and Yves Saint Laurent, you are looking to break into the fashion industry, the advice below will help get you started on the right footing.
Tips to Succeed As a fashion Designer in the UK Choosing the Right degree
Choosing the right degree has a lot to do with it, and once you achieve this you will have been equipped with the right skills and knowledge to know what works and what does not. There are many things to consider such as the subjects, costs and the direction in which you are willing to go to achieve a successful career in the competitive markets.
Some may think that a fashion degree will suffice in getting the right job or becoming a UK fashion designer, however, it may not be that simple. Your designs need to make it onto the pages of famous design and fashion magazines, and the likes of Vogue, GQ, Elle, Cosmopolitan or Marie Claire won't showcase your items unless there is something unique to it. Something that's never been done before.
The school you choose to study at, will also make a difference and researching the various options of the top ones will help towards this goal.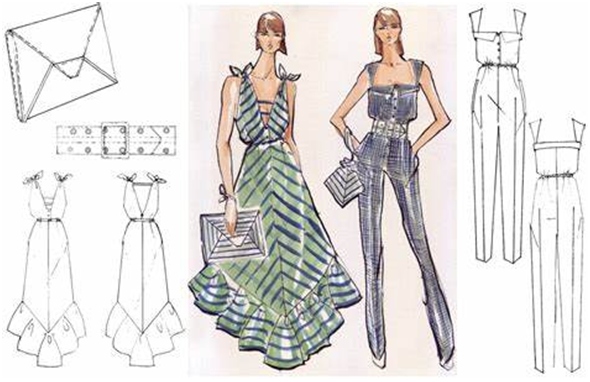 Create a Personal portfolio of Works
It's one thing to have the right skills and knowledge, however, it's a completely other thing to have a portfolio that will attract onlookers and hiring companies. While you're on your journey, you should also be creating a digital portfolio showing your designs, and achievements within the fashion industry that you can show to potential employers or clients.
Keep up to Date with New Trends
Keeping an eye on the latest trends and concepts is something you should be making a habit out of. Because this industry is so "fragile", any small change can do wonders to those interested in your designs. It is not about making clothes that are fit for the runway, but rather sketching new designs, studying trends and activities, celebrities' styles and various niches, as well as selecting the right kinds of materials that will make an ordinary piece of item look fantastic!
The Road Ahead
Luckily, becoming a fashion designer can be done in various ways. Even though it is good to know that many of the famous designer faces have been self-taught, nevertheless, it does take a lot of hard work and perseverance. Giving up should not be an option if you are keen on going down this road.
You can take the traditional route of studying and getting a degree or you can join an internship program or specific design school. It is, however, easier to put together a portfolio when you are at a school or university that offers the course because they combine both theoretical and practical work.
Most of these programs will take you anywhere between 2 to 4 years to complete depending on which country you want to study in: https://sewport.com/fashion-designer-manufacturer-needed and once you have completed the qualification, you will not immediately get your hands dirty within the fashion industry, but rather you will still need to learn some extra skills such as how to sketch, using various computer programs like CAD (Computer-aided design), and of course up your game in business skills!
The above guide is just a brief introduction to what it takes, so it would be recommended to do some thorough research for anything that's not been mentioned above.