Almost all women like straight and silky hair. It can be very problematic to use the straightener every day. It takes time, and the heat can damage the waves. You can opt for permanent straightening hair, which is expensive but can take a few months. It can cost you from 4000 / INR to 6000 / INR. The regular salons can do this for you at lower prices. If you choose professional salons like L'Oreal Professionals or The Habibs, you can probably burn your pocket.
The markets quickly introduced some permanent hair straightening creams that are required to hold your Hair perfectly after straightening.
The permanent hair straightening process is normal. First, the keratin structure is broken down with a sodium-based chemical. This makes the waves controllable for the second process. The second method is to use an oxidizing agent that neutralizes the keratin and straightens the Hair.
Permanent Hair Straightening Treatments
However, there are several ways to do this. A process can contain more chemicals and heat than others. It depends on what type of treatment you choose. There are basically 3 types of a permanent hair straightening treatments. Here we also have processing methods for permanent hair straightening.
Keratin treatment.
Japanese heat treatment.
The chemical treatment.
1. Keratin Treatment, also known as the Brazilian Technique
The Brazilian method is a very popular technique. This is by far the most famous of all other techniques for straightening your hair. In this process, a layer of keratin is usually infused with the existing keratin structure of the strands, and this fits perfectly with the fibers so that their natural texture is softened and smoothed. This gives you a silky, straightforward look, and the locks become very shiny.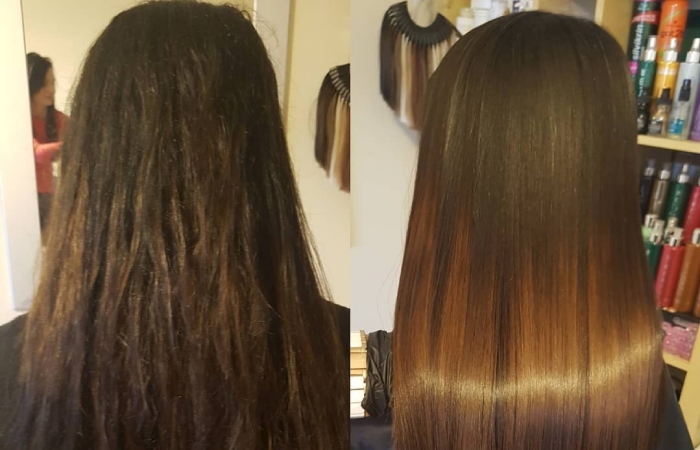 If you choose to have it done by expensive salons like L'Oreal, it will cost around 4000 / INR to 6000 / INR. This can be a little expensive, but the results last for a few months. None of these treatments are permanent, though they are said to be permanent because you don't need to take or blow-dry regular equipment like hair straighteners and other brushes to keep hair permanently smooth.
2. Japanese Thermal Reconditioning and Advantages
This is not a complete method of proof. This also does not lead to better results than the method mentioned above. However, this can lead to good results, but they are long-lasting, provided that you make regular improvements. This is cheaper than the above procedure and can be done in selected salons. With this method, the shafts are first extensively treated with chemicals. It creates a chemical bond over the original waves.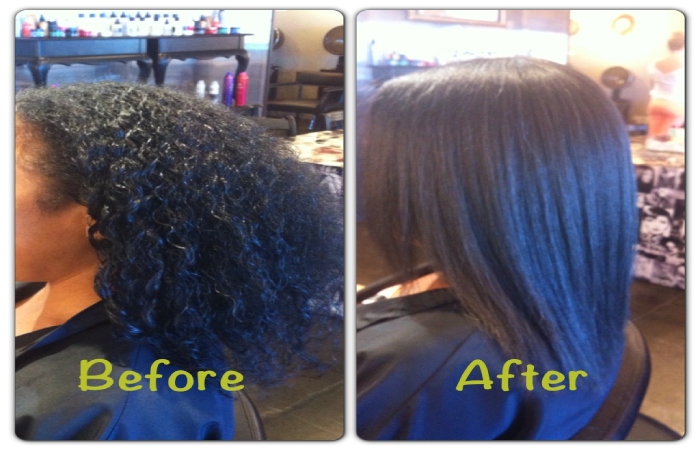 This, in turn, breaks the original keratin bonds. If the bonds are broken, the new keratin layer is fixed on it and treated with heat. It can be very harmful, and usually these days people don't take this treatment unless you want to spend a few euros less and not Brazilian treatment.
3. Chemical Treatment and Benefits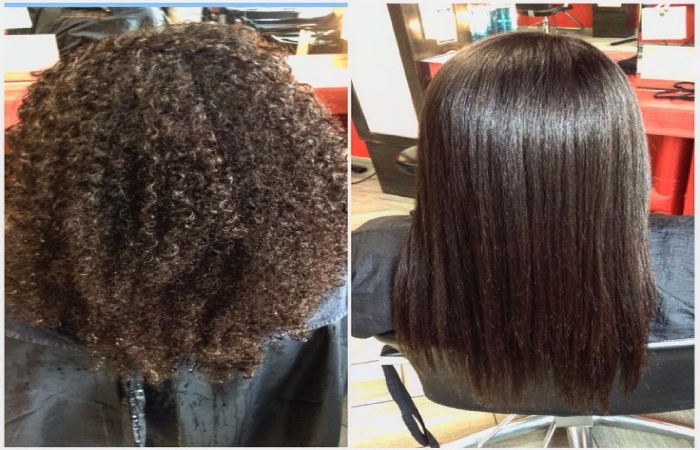 This is another permanent hair straightening technique. In this case, a certain number of keratin bonds are broken down using chemicals, which makes the texture of the shaft smooth. If fewer bonds are broken, the hair won't straighten. Breaking more bonds can result in brittle and weak hair. It depends on the skilled person who carries out this technique. This person should have mastered chemical skills, as this can lead to poor results. This smoothing process is filled with chemicals, but the use of heat in this process is not much.
Side Effects of Permanent Hair Straightening
Is permanent straightening good for thin or thick hair? There are certain possible side effects of straightening hair. Check out some.
As the stem grows out, you can face a mixed texture. The top of your hair can be frizzy and curly, which corresponds to the original hair structure, while the lower parts remain straight. This can give you a strange look.
Sometimes the use of the straightener at home becomes a necessity.
Regular rework is necessary to keep your eyes straight.
Regular salon visits can make you very expensive.
This can lead to excessive frizz and dryness.
It can break waves.
If the hair gets too dry or treated too chemically, you may have itchy scalp problems, dandruff, or other problems.
There may be some severe allergies that can cause serious damage to the scalp and hair roots. When you are ready to fix the damage caused by the permanent alignment procedure here, a professional doctor is required.
It can cause permanent damage to your original stem structure. This causes the hair to look bad too, and this can also be a hurdle for future hair growth.
You may also need to choose these techniques if you want locks right now, as the kits available on the market don't help much.
You cannot select another hairstyle, e.g., B. a curly. And you need to hold onto your straight hair for the rest of your life unless you cut off all of the hair and let it grow alone from the start. Sometimes a hair straightening procedure can go wrong and cause serious damage to the scalp. Such cases have recently come to the attention of people, and this is one of the main reasons for the massive rejection of the permanent hair straightening process.
Permanent Hair Straightening Centers in India
In India, specific permanent hair straightening centers offer the best service ever. They are as follows. The following 5 are some of the best hair straightening centers in India so far.
Naturals (Bangalore)
Naturals Hair and Beauty Salon (Visakhapatnam)
VLCC slimming, beauty and fitness (Visakhapatnam)
Highlight beauty salon (Bangalore)
Venus Beauty Care (Vadodara).
Also Read: The Best Papaya Face Packs for Fairness, Acne, Pimples, and Fair skin
KNOW MORE:- healthmeefit