Hair Straightening Cream: If your hair has become very unruly, you can no longer resist frizz, and it is impossible to define your curls or waves, chances are you need the help of hair straightening cream and treatments to straighten your hair.
Whether you decide on a temporary or permanent straightening, the good thing is that there are many treatments to meet your expectations.
Made from multiple ingredients, the vital thing is that you choose one that offers you a result that will last over time, and that does not have irreparable side effects.
It should be soft with your hair, easy to apply, and provide hydration and nutrition.
A straightening treatment gives you the possibility of showing off a mane with movement, silky, and above all, healthy.
With the help of these treatments, you can find permanent or temporary results. And you can even play between a completely smooth mane or one that has very smooth and manageable waves.
Do you want to see what the best products to straighten hair is? Keep reading, and we give you the best Hair straightening cream.
4 Best Hair Straightening Cream
Be Natural – Keratimask Brazilian Straightening Kit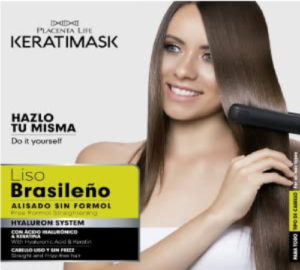 Be Natural Smooth Brazilian is a Formol-free straightening kit that is shown as an improvement or evolution to achieve Brazilian straightening. It is normal for straightening products to contain Keratin, a protein that adheres to the hair and serves to leave it healthier, shiny, smooth, and manageable.
Keratimask also has hyaluronic acid, a compound that has become very popular in the cosmetic world thanks to the significant effects it has to hydrate the different layers of skin and hair, giving it greater vitality and strength. It allows creating a hydration layer that is very effective in eliminating frizz from the hair.
The hair hyaluronic acid used in this product contains glyoxycholic acid, hydrolyzed collagen of plant origin, and panthenol, compounds that are responsible for improving the manageability of the hair and its appearance.
To use it and achieve the best possible results, you have to wash your hair twice using Clarifying Shampoo Smooth Brazilian Deep Cleaning with plenty of water. The conditioner does not have to be applied.
Then the hair has to be divided into two parts, and it uses the Straightening Treatment using a brush. It has to be left to rest for 15 minutes and should remove the excess using a comb. Next, dry the hair using a brush and a dryer.
To finish the hair, you have to iron wick by wick between 8 and 12 times at a temperature between 200 ° and 230 ° C.
In order to obtain the best possible results and all the advantages that this product offers. It is necessary to follow the manufacturer's instructions as best as possible:
Pros
The results obtained after performing the entire procedure are very good.
It achieves a noticeable increase in volume.
The price of the product is quite reduced, taking into account the results obtained.
Cons
The process can be quite a time consuming and tedious.
L'Oreal Paris Botanicals Discipline Cream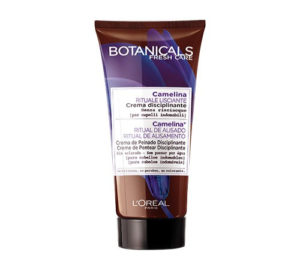 The products of Botanicals de L'Oreal seeking to offer the best possible beauty experience, which is why they are the result of years of research carried out to achieve high-quality formulas, with good textures and fragrances that offer a unique experience
Botanicals' smoothing rituals associate the botanical complex with cold-pressed camelina oil, which is infused with the shampoo. In addition to that, the product also has a fresh oriental fragrance that improves the experience of using this product on our hair.
Another important detail that must be taken into account about this product is that it does not use parabens, dyes, or silicones, being a completely natural product that is also suitable for people who only use vegan products.
Botanicals are one of the most outstanding hair care markets today thanks to the fact that it is enriched with botanical ingredients that have a large number of benefits for hair. They are products that obtain through the collaboration of scientists, botanists, and producers who work passionately to find the best ingredients.
They have a nourishing power provided by the natural infusion of saffron oil that allows them to repair and restore damaged hair, in addition to which it also has geranium leaves. This shine remedy protects and revives hair.
Likewise, thanks to the fortifying properties of coriander seeds, as it improves the strength of the hair. And the oil of Camelina is responsible for providing the smoothing effects.
Pros
Does not leave hair dry or matted
Leaves hair very soft
It has a pleasant smell
Manages to leave a feeling of freshness in the head
Cons
The moisturizing effect may not be very effective on some hair types.
Pinpoxe Straightening Treatment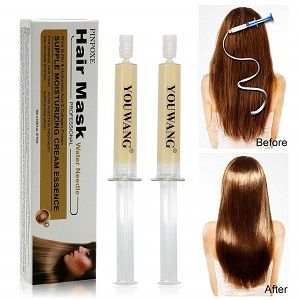 If you need to repair and recover your hair as if by magic, we show you the straightening product you need: Pinpoxe straightening treatment.
They are small but very powerful blisters that one can apply it easily to the mane. And that instantly restructure and revitalize it, to restore the life it has lost.
The making of this smoothing treatment is with very powerful ingredients, which penetrate from the roots to the ends, to hydrate it intensely, and repair it in depth.
Collagen protein, Shia, and hyaluronic acid will be the main responsible for compellingly recovering hair, also creating a protective layer to maintain the effect for a longer time.
Also, it strengthens the scalp to make the hair more flexible, prevents hair loss, and promotes healthy growth.
Among other components, it has argan oil, which is a very powerful natural ingredient that intensely hydrates and nourishes.
They are perfect for reversing damage due to chemical over-processing, staining, or bleaching.
This treatment offers better results when combined with other Pinpoxe brand repair products.
These ampoules are a favorite of professional stylists, although they can also be used without problems at home.
Depending on the type of hair, the results may vary as follows:
Effect on smooth, damaged, and frizzy hair: Repair, hydration, nutrition, and smooth effect with shine instantly.
Impact on wavy hair: Incredibly reduces the wave, leaving hair smooth, healthy, hydrated, nourished and shiny.
Effect on thick, unruly, badly treated, and over-processed hair: Repairs deeply from the first application, nourishes, hydrates, and conditions, to leave hair with a smooth, soft and manageable effect.
Pros
Deeply conditions hair.
It works in just 5 minutes.
Great value for the price.
You will get a repaired, revitalized, smooth, manageable, shiny, and frizz-free mane.
Cons
The product brings little quantity.
Kativa Hair Straightening Cream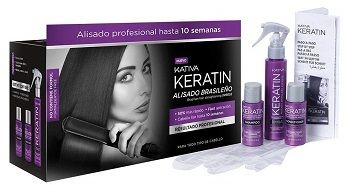 Kativa is one of the best brands that specialize in hair care and the creation of straightening treatments.
In this case, I show you a keratin straightening kit that promises to give you smooth and shiny results for up to 10 weeks.
Among its wonderful ingredients is argan oil, which, together with Keratin. And is responsible for hydrating hair from root to tip, thanks to its antioxidants, vitamin E and carotenes.
Hence, not only will you be able to show off smooth and shiny hair. But it will be strengthened, revitalized, and full of life.
This straightening treatment is free of formalin so that it will act on your hair gently and without irritation.
Its formula will help you lower the level of the waves and effectively combat frizz.
This kit contains sulfate-free shampoo, keratin treatment enriched with argan oil and conditioner to seal the treatment. Its application is very simple, and one can do it from the comfort of home.
Depending on your hair type, the results may vary:
Effect on smooth, damaged, and curly hair: Deep hydration, smooth, and frizz-free effect for up to 10 weeks.
Effect on wavy hair: Effectively minimizes hair wave, hydrates, repairs and gives it a soft, shiny, and frizz-free effect.
Impact on thick, unruly, and highly damaged hair: It deeply hydrates, repairs, restructures, and revitalizes it, giving it a smooth and manageable appearance, with shine and frizz-free.
Without a doubt, this treatment is a fast and safe way to show off a beautiful and smooth mane.
Pros
You can apply it very quickly, up to half the time of any other keratin straightening.
It contains natural components such as shea butter and cocoa, which provide benefits to the hair.
Easy application.
Cons
Depending on the type of hair, the results do not reach 10 weeks.
Everything you need to know to choose the Best Hair Straightening Cream
By the Type of Treatment
The products for straightening hair are many and are made from different ingredients as they are aimed at different types of hair that require straightening.
Also, some of them offer results that promise to last for several months and get rid off waves almost permanently. While there are others that condition hair so that it is much smoother and completely manageable.
The most popular straightening products are:
Keratin: Depending on its composition and the ingredients with which it is combined, you can obtain smooth, hydrated, and protected hair, thanks to the injection of Keratin that it produces. It is also known as Brazilian straightening.
Japanese: It is called Japanese because the result is smooth, silky, and manageable hair very similar to that of Asian women. This straightening is made from powerful chemicals.
American: This is somewhat similar to straightening with Keratin since, at the same time that it straightens the hair. It hydrates it deeply. This is due to the natural ingredients that are part of its composition.
Straightened According to Your Hair Type
The first thing to keep in mind to apply a straightening treatment is your hair type. Since each one will need specific products so that you can obtain the perfect results.
That is, it is not the same to straighten curly but fine hair to try to straighten thick and uncontrollable hair.
Remember: for optimal results, look for the straightening treatment aimed at your hair type.
For thick and damaged hair: It indicates a Japanese straightening for this type of hair since it is somewhat more aggressive. And ideal for attacking strong waves and facilitating smooth and manageable hair.
Being such a strong product, it must be applied by professional hairdressers.
For damaged, dull, and lifeless hair: In this case, you can choose between Keratin or an American straightening. Both straighten your hair while hydrating, restructuring and revitalizing it less aggressively, but very effective.
Such a straightening will return your hair to life, shine, and manageability.
For hair with soft waves: Maintaining hair with keratin-based products and treatments is all you need to smooth the waves a little and always sport a magnificent mane.
For example, many shampoos, conditioners, and masks have Keratin as the main product, which is perfect if you want straight hair that you can get from the comfort of your home.
Types of Straightening Treatments
There are two types of permanent and temporary straightening. Although the straightening is permanent, this does not mean that it will be for life. So it is better to talk about semi-permanent treatments. The treatment will last according to hair growth.
The composition of these treatments is based on chemicals whose duration in the hair can last from 2 to 7 months, but the effect is not lost by continuous washing. For some hair, they are aggressive, so the application should be according to the need and the type of hair.
On the other hand, the effect of temporary treatments will be on hair washing. And their duration will be much shorter.
Also Read: A Skin Expert Explains SOS Tips for Dry Winter Skin
MORE INFO:- trendssandsty