Many people know curry as a gastronomic condiment. However, they think that this powdered spice is artificially composed.
Likewise, some people do know about this plant but believe that it is only intended to flavor various foods without realizing that in each kitchen or garden, they have a huge source of benefits.
But it is essential to know that when we talk about curry, we are not exactly talking about the powder since this is a mixture to which other spices such as mustard, turmeric, and cardamom are added.
The name of the seasoning is attributed to the curry plant due to its aroma. In addition to being a plant widely used in gastronomy, it has anti-cancer properties and can be your ideal ally in matters of beauty.
What is it?
This plant has green or greyish leaves; it is born and grows anywhere in the world since it supports extreme climates.
Most of the time, it grows in warm areas. However, many people have had the joy of planting curries in areas of cold climates, and this plant has resisted.
Also, this plant resists strong heat waves or intense sun and also does not require specific care. The logical name by which it is known is Murraya koenigii Spreng, and this plant belongs to the "Rutaceae" family.
This tree can reach 1 meter 20 centimeters tall, although its common presentation is as a small plant of only 80 centimeters or less.
How Do you prepare?
Curry leaves can be prepared in different ways, the best known to be a powder, although many leave them whole and then save and use them anytime, they wish.
Benefits of Curry Leaves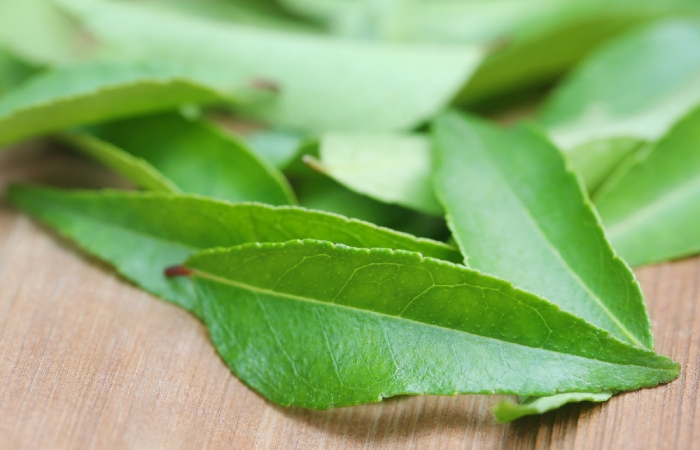 Nutritional value
Curry leaves have a large number of vitamins essential for the human body. According to USDA data, every 100 grams of curry leaves provide:
Additionally, it contains 53.2 grams of fiber, 14.29 grams of protein, 19.10 mg (153%) iron, 525 mg (53%) calcium, 367 mg (52%) phosphorous, 255 mg (69%) magnesium, 1170 mg (25%) of potassium, 52 mg (3%) of sodium and 4.70 mg (47%) of zinc.
All these values make curry leaves an inexhaustible source of benefits.
The large number of properties that curry leaves possess, act directly on the body as soon as they are consumed; this is thanks to the number of their nutritional values. You will surely be astonished to see how many benefits the consumption and use of these leaves bring you.
Protects the skin
Thanks to vitamin E it contains, these leaves protect the skin from sunburn.
From ancient times, in India, they bathed with the infusion that they prepared with these leaves; This infusion not only served as a sunscreen but also helped heal severe burns and bites from different insects.
Natural antidiarrheal
Curry leaves contain a chemical compound called "carbazole alkaloids," this chemical component is a powerful antidiarrheal according to several studies carried out in different laboratories in the United States.
Protects the intestines and stomach
A juice prepared with lemon and with curry leaves or a cream prepared with them, consumed on an empty stomach, is usually of great help for those who suffer from irritable intestines or severe stomach pains.
Thanks to the carbazole alkaloids that the leaf contains, stomach problems disappear in the blink of an eye.
Protects the heart avoiding heart attacks due to high cholesterol and excess fat
Most heart attacks are due to poor eating habits. The fat and excess of some foods provide the body with a strong impact on cholesterol, causing it to increase to the point of decompensation and may even cause death through a sudden impact.
Luckily, studies in various countries such as India, prove that the constant consumption of curry leaves helps to maintain a balance in cholesterol thanks to the fact that it decreases and maintains it.
Besides, its properties help eliminate fat, this being a perfect thing for those looking to lose weight.
Allows for rapid hair growth and aids in gray coverage
The frequent use of natural hair masks created with curry leaves is very beneficial, especially for people with dark hair.
Anticancer
Phenols (a chemical compound that has the leaf), help fight and prevent prostate cancer, leukemia, breast cancer, among others.
Frequently Asked Questions (FAQ)
Where do I buy the curry leaves?
You can buy the curry leaves in any botany. Besides, supermarkets already sell them previously leafless, dry, or fresh and already packaged.
How to use curry leaves for hair?
You can mix the fresh curry leaves previously crushed with olive oil and avocado. Once you have the mixture ready, you use it as a hair mask for a period of 30 minutes.
After 30 minutes, wash your hair with plenty of warm water. This will make it look more full of vitality, stronger, brighter, and will help you stop the fall if you do it once a week.
How to make curry oil?
To make curry oil, it is necessary to have:
You must heat the coconut oil first; one minute before the first boiling point, you must add the leaves and boil the preparation for 8 or 10 minutes.
This oil can also be used on the scalp or spread on the skin.
Also Read: Movierulz 2020 – An illegitimate Website to Download Movies in HD
KNOW MORE:- muscularmuscl