Bob Wigs for Summer: Summer is just around the corner and you can expect to feel hot in your wigs. However, it does not mean you cannot do anything about it.
Typically, women who wear wigs often experience difficulties in summer. It is primarily due to the heat. Still, you can consider bob wigs to avoid feeling sweaty under the wig,more bob wig visit UNice.
Following are some of the best bob wigs that you can wear that can help you stay cool even under the sun:
1. Standard Bob Wig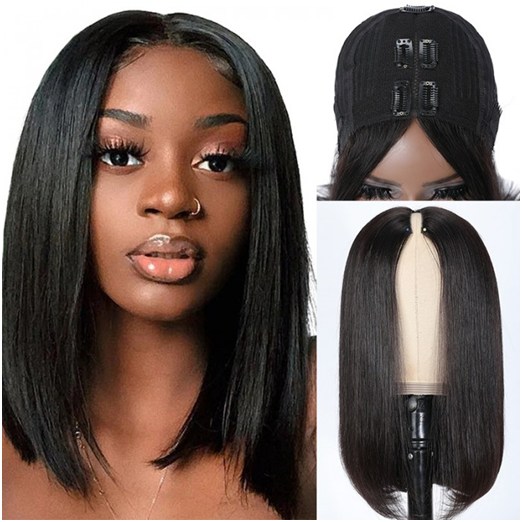 If you are a person who prefers simplicity, then this V part wig is for you. A standard bob wig comes with straight yet smooth hair that reaches just below your shoulders. While they are not that long to cause any difficulties, they are still long enough that you can style them just as you want.
In case you like to prefer short hairstyles, you can try them on using this wig. It provides you with sufficient length that you can try on a variety of hairstyles and even make small buns if you want. It is all up to your needs.
One of the major benefits of a standard bob wig is that it comes with straight and sleek hair that compliment your features and beauty. Moreover, it is possible to style and adjust this wig just as you want. If you have some hairstyles that you have been thinking about, you can always try them on using this wig.
2. Bob Wig with Bangs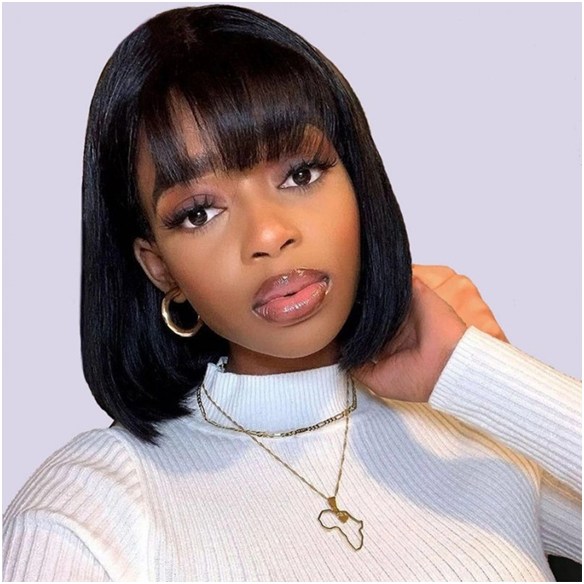 If you prefer classic bangs to accompany short hair, you should definitely consider a wig with bangs from Unice.
A bob with bangs is suitable for almost anyone. At the same time, it ensures that you do not feel sweaty even when you take a long walk under the sun. After all, it comes with short chin-length hair.
Even though chin-length hair is limited in terms of hairstyles, they still offer the comfort that is not offered by others. For instance, in the summer, it becomes quite difficult to manage long hair. In fact, it even causes you to feel sweaty quite often. Therefore, in hot weather, a bob wig is preferred. After all, you can not only manage it as you want but it also does not cover your face that much.
An added bonus is undoubtedly the bangs that it comes with. When you wear a bob hair wig with bangs, you immediately get a hairstyle without actually making it. You get bangs that reach just below your eyebrows. While you get bangs automatically with this wig, it is also true that you can adjust them and style them just as you want.
For instance, you can part the bangs or you can keep them to one side. Thus, the styling of the bangs depends on your needs and preferences. You can choose any style you want easily.
3. Blonde Wig
If you are not really a fan of conventional black hair, the blonde wig is the right option for you. It is quite difficult and unique from other wigs. Actually, it provides you with blonde hair that reaches past your chin. However, the length of hair is not enough to reach your shoulders.
It means that a blonde wig provides you with quite a unique and stylish look. At the same time, it helps you stand out from others as the color itself is quite vibrant.
One of the benefits of this blonde wig is that it suits almost every complexion. You can wear it and it is guaranteed to suit your complexion. At the same time, it will compliment your appearance and make sure that you look stunning.
You can wear this wig without worrying that it might not suit you. It is developed to suit people with diverse features and appearances. Moreover, on a sunny day, this wig will be sure to keep you cool.
4. 99J Color with Black Root
Sometimes we require a hair color that is unique and makes us stand out from others. However, at the same time, we need it to complement our appearance. If you are a fan of dual-colored wigs, this wig is the right choice for you.
99J color wig with black roots is quite a unique and vibrant wig that you can wear and try on. It has black roots and the hair itself reaches just below your chin. It means that while it is quite a stunning wig, it also ensures comfort on a hot day. You can wear it whenever you want and it will be sure to suit any dress that you wear.
This wig is created to suit any complexion which means that you can try it on and it will enhance your beauty. Furthermore, the hair color itself is permanent which means that it is not going to leave you soon. You can continue wearing it daily without having to worry about the color. You can even try different hairstyles on it just as you want.
5. Curly Wig
If you are a person who does not prefer straight hair or bangs, you should consider trying a curly wig. A curly wig is not only different in its appearance but it is also more attractive. In fact, the curly wig suits your face and features and makes them prominent.
You can try the wig yourself and you will immediately notice how incredible it looks on you. It will suit your complexion and it will add a regal look to you.
The curly hair reaches your shoulders, which makes it easy to manage them. It is, however, important to note that curly hair has a significant volume, which makes them prone to heat.
Therefore, you need to try on a style that can keep you cool as you wander around in direct sunlight. Other than that, this wig is designed to bring the best out of you and you can just try on a style that better suits you.