As summer approaches, it's time to start thinking about warm-weather outfits you can wear to a variety of events. For all those backyard barbeques, dinners with friends, bridal showers, beach meet-ups, parties, and other celebrations, you need something simple and chic to wear. Dresses are perfect for occasions like these, and our favorite summer look is the two piece dress set and for some perfect workwear pieces you can visit Suitably.
Two piece dresses look like you put together a more complex outfit than you actually did, since the top and bottom pieces look like you magically paired a perfect match together. They also allow your skin to have room to breathe and catch some rays of sunlight for that perfect sun-kissed glow. (You do want to be careful to spend extra time applying sun protection when wearing a two piece dress, though, because the little sections showing your skin are probably extra sensitive to the sun.) There's much more to adore about two piece dresses, but rather than talking about it, let's show you.
Here are some of our favorite two piece dress looks from Reformation, the brand creating sustainable clothing that's stylish, well-made, and endlessly trendy. Their summer dress catalog is full of lightweight warm-weather dresses that you can style up or down in order to wear to any occasion under the sun. We know you'll love these picks as much as we do, so head over to Reformation's online site to score them for yourself. We'll also share some tips for how to rock a two piece dress set, so keep reading, bestie. And also you can check date fashion ideas for best outfit ideas.
Reformation's Pam Linen Two Piece in Lara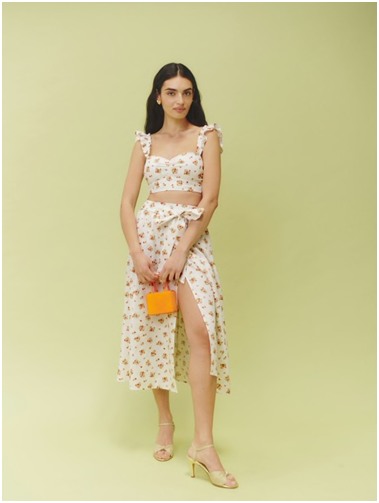 Just look at the sweet floral print on the Pam two piece set! And it's not just any dress set but a linen dress, meaning it's lightweight and made from sustainable flax-based linen. This two piece set reminds us of everything summertime sweet, like fresh fruit on a hot day, flower fields for picnicking in, shimmery gold SPF lotion, and blue skies. You'll be living that gorgeous sun-kissed life in the Pam, with its wrap-around skirt and ruffle sleeved crop top.
Tip #1: Look for a patterned two piece dress set if you want to have an aura of dressiness
Sometimes people feel like they can't wear a two piece set to a fancier event because of showing that extra little bit of skin. However, if you pick a two piece with a bright and elegant pattern like the charming florals on the Pam Two Piece in Lara, your outfit instantly has an appeal that can take it to even those dressier events.
Reformation's France Linen Two Piece in Hillside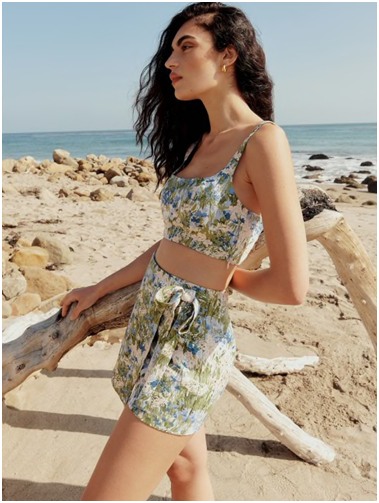 Ok, can we just agree that the Hillside print on the France Linen Two Piece is to die for? It transports us to dreams of the jeweled Mediterranean Sea, stretching beaches, sea salt air, and ice cold beverages sipped outdoors. If you have a flair for sophisticated summer vacations (even if you only plan for them at this point), the France set is made for you. Plus, it's additionally perfect for those plans that require a little bit of movement, because this one is a crop top and skort combo (meaning that mini wrap dress? It's actually secretly shorts!).
Tip #2: Opt for a skort set if you're worried a skirt won't be able to keep up with your active self
There is no reason to shy away from a two piece dress set this summer; not even if you're someone who worries about accidentally flashing people when the wind picks up. While that's definitely a valid fear, there's a solution—a skort. The France set looks like a dress but provides extra support so you can move and sit like normal. You can opt for this skort set any time you want to show up to your event in both style and total comfort.
Reformation's Yvonne Linen Two Piece in White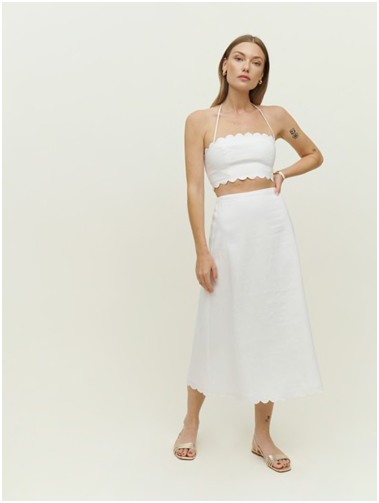 We love this chic two piece set, perfect for all those occasions when you want to show up looking striking and fresh in white, but still intend to own the party. The scalloping detail on the hems provides an extra dash of sophistication. Just imagine wearing this to your bridal shower or bachelorette weekend. It'll make just as much of an effect when worn to your niece's birthday party or that hot date coming up. But you might want to hurry to get your wear out of it before Labor Day! Just kidding—you can wear white year round, you style icon.
Tip #3: Pair sandals with a two piece for a more relaxed look, or go with heels to dress it up
With linen, you can go casual or dressy, which is one of its best features. If you want to lightly casualize your dress set (especially with an elegant linen dress like the Yvonne), choose a nice pair of sandals. But if you want to lean into the formality, you can't go wrong with heels.
There's really nothing more perfect for summer than a linen two piece dress. These Reformation sets will prepare you to head into your summer plans with style and lightweight comfort.