Being plus-sized is something to be celebrated. After all, the name says it all. The traditional meaning of plus is adding together, precisely what most plus-size women feel.
There are so many other good qualities to look out for, and they all add up to one amazing woman! So, why not celebrate the unique person by adding stylish fashion items? Having clothes that fit well, regardless of body shape, could elevate self-esteem and exude confidence.
With these fashion tips anyone could follow, plus size women could get in on the mood-boosting, beautiful trends of today: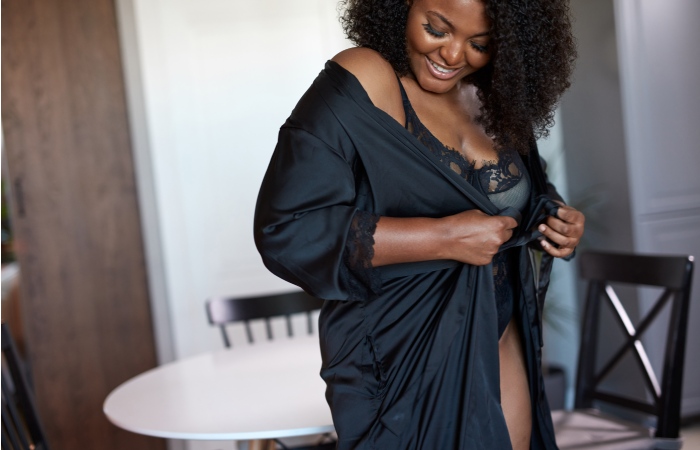 1. Supporting Underwear
Being a plus-sized woman means more support may be needed in undergarments. Some of the best underwear would not be uncomfortable when the correct ones are used.
Women should embrace being plus size by treating themselves to underwear to ensure that their clothes look phenomenal. Broader shoulder straps or a cross-over fit for a bra would give back support and prevent cutting in on the shoulders, and finding the best fit around the chest could further lend support.
Underwear in plus sizes is no longer dull and plain, with many new designs and flattering fabrics being used to create beautiful pieces. Wearing pretty undergarments could leave the wearer feeling good-looking all day.
2. Clothing Size Matters
Don't hide your talents under a bucket, or in this case, don't hide your best assets under layers of baggy clothing.
There are so many beautiful features that plus-sized women can accentuate, and wearing loose and shapeless clothing won't do any of them any good. Choose garments that would fit the body shape to ensure that the best in you is brought out.
For example, dresses with an empire line would flatter pair-shaped bodies, while it should be avoided for apple shapes. Make some effort to fit the clothes before buying to see how they look on the body.
Seeing your silhouette in the fitting room mirror could make you criticize every part of you. Fitting room lighting would not always be the most flattering, and most plus-size women choose to avoid them altogether. But finding the right size and style for a specific body shape can't be done without seeing the complete look in the mirror.
3. Measure It Out
Clothing comes in different sizes and measurements, just like all the different body shapes. Knowing the measurements of your body would make it much easier to shop for the right fit.
It is not uncommon to wear one size top and another for the bottoms. As long as it looks good, the size won't matter. Measurements would come in handy when finding underwear, and many manufacturers have a guide for sizing the garments.
If you're planning to purchase online, the only sure-fire way to know that the items will fit would be to look at the measurements. Don't be afraid of the measuring tape, and it may even become your best friend.
4. Colors, Patterns, And Fabrics
Traditionally labeled beautiful clothing had exciting colors, patterns, and fabrics that were part of the designs. These were usually excluded from the plus-size range as it was believed that it would be better to wear more muted items.
Ladies, hide no more! The latest fashion trends for plus-sized women have become fun-sized with eye-catching colors, exciting patterns, and soft flowy or stretchy fabrics for maximum comfort. Make being in style look easy by finding trendy outfits online for effortless and stress-free shopping.
Colors could influence our mood, and there have been many raving about the benefits of having power color outfits. Don't be afraid to stand out from the crowd by having an accent color or pattern added to the day.
5. Bend The Rules
Not a trend follower? No problem! The ultimate goal of fashion would be to make the person feel great about themselves. Looking pretty doesn't have to involve the latest trends.
Comfortable clothing that fits well could boost confidence, and having more of that would automatically make someone more beautiful. Just like other choices in life, not everything will be for everyone. Instead, find the style that makes you most happy and expand on that.
Love a good crop top? Buy it! That dress in the store window calling your name? Take it home! It would be an excellent investment as long as the clothing makes you feel good in your skin.
6. Jeans Are A Staple
A solid pair of jeans is a staple item for any wardrobe. There are many different styles, patterns, prints, and colors to leave anyone spoilt for choice.
Stretch-fit jeans would probably be the most comfortable to wear, but nobody stops anyone from choosing their favorite. When buying them, make sure that nothing inappropriate shows when sitting or bending. This revealing situation could cause quite an embarrassment when going about the day.
Leave the lacy undies for the bedroom and not hang out for everyone else to behold. Underwear is called that for a reason, and even though those beautiful new pairs of panties have your heart racing, it doesn't mean that everyone else's hearts should be racing too (perhaps even for the wrong reasons).
7. Tailored To Your Needs
It could be a brilliant idea to find a tailor to adjust garments to fit perfectly. This way, any item could be bought without stressing about the fit.
Because bodies differ in shape, even though they may buy the same size clothes, there is a need for personalized tailoring. Their expertise would guide anyone to make the best alterations to their clothing.
Flattery will get you everywhere, so why not flatter yourself with clothing that was made for you?
8. Have A Support-Sister
Talking to other ladies about all-things plus-size could do wonders for one's state of mind. Hearing those other ladies go through the same struggles lets people know they are not alone.
Having a support-sister to vent to can help acceptance and peace with being plus-sized. Support structures are crucial for everyone. Moreover, you can lean on the support system to find new fashion items and make shopping more manageable. In reality, shopping could be daunting, but sharing the experience with a supporting sister would change it into a pleasurable activity.
Fitting It All In
When considering plus size as a fun size, we have already changed our mindset to a more positive one. Adding great fashion into the mix could skyrocket confidence levels and boost the mood for the day. Feeling like a superhero in an outfit confirms that it was the best choice made.