Modernize Your Beauty Routine: Have you been following the same beauty routine since you were a teen? If you answered yes, then it's probably time to introduce some new beauty products and daily rituals into your heavy rotation. As we age, our skin and hair care needs change along with our hormones. As a result, the products and daily rituals that worked for you as a teen may no longer do the trick as you start climbing into your 20s, 30s, 40s and beyond.
Even if your skin and hair health have remained the same throughout the years, there's still a strong case to be made for modernizing your beauty routine. Over the last few years, beauty products have seriously upped their game by eschewing toxic formulas and prioritizing sustainable packaging and ingredients, making it easier than ever to look incredible while being eco-friendly.
So, are you ready to revamp your beauty rituals? Here are 12 easy ways to modernize your beauty routine so you can start doing right by your body and the planet.
Hair
1. Try a shampoo bar. Have you tried a shampoo bar yet? These trendy little bars are exploding in popularity, thanks to their package-free design, high concentration of plant-based ingredients and budget-friendly price tag. One of the many benefits of switching to solid bars is that it can help save two to three plastic bottles from a landfill. They also last longer than liquid shampoo, which means you can go green while saving green. For best results, don't forget to add a conditioner bar to your new hair care arsenal.
2. Find a new hair stylist. If you're happy with your current hairstylist, that's great! But one of the surest ways to modernize your entire beauty routine is by getting a fresh new cut from someone who isn't afraid to push you out of your hair comfort zone. Try a trendy new style, like a curly shag or '90s (Pro tip: Ask your stylist which style will flatter your face shape!)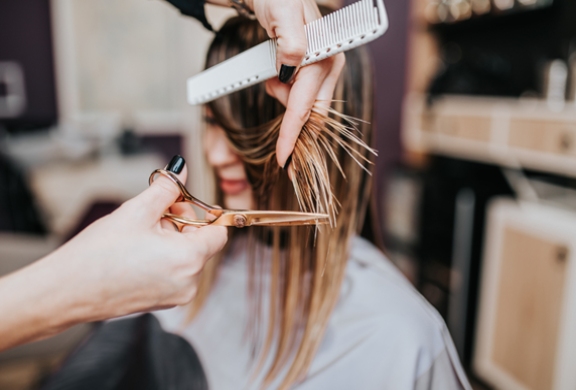 3. Deep clean your scalp monthly. As the saying goes, healthy hair starts with a healthy scalp. To get your best hair yet, consider a "scalp detox," which involves applying cleansing ingredients — like diluted apple cider or activated charcoal — to remove sweat, oils and product buildup from the scalp.
4. Start using hair oil. Applying a hair oil, whether it be argan oil, coconut oil or moringa oil, is a great way to reduce frizz and protect your hair from everyday wear and tear. Simply massage the oil into your scalp, cover your hair with a shower cap and leave on overnight. The next day, shampoo and condition your hair as normal and you should be rewarded with silky-smooth strands.
Skin
Make an appointment with a dermatologist. If you want to revamp your skin care routine, but don't know how or where to start, scheduling an appointment with a dermatologist is your best bet. While seeing a dermatologist for non-medical services can be expensive, the confidence you'll gain from finally having clear, glowing skin is worth it.
Switch to a solid cleanser. If your liquid cleanser no longer seems to be working for you, try a face soap bar. Unlike traditional bars of soap, face soap bars are specifically formulated for the skin on your face (read: no oil-stripping detergents) so you get all the benefits of bar soap (lower carbon footprint, cost savings, TSA-friendly, etc.) without the dry skin.
Upgrade your sun protection. Sunscreen has gotten a serious upgrade in the last few years. These days, you can now find SPF in a wide range of formulations, including sticks, serums, gels and sprays. Want to be kinder to the planet? Seek out a reef-safe sunscreen that comes in environmentally friendly packaging.
Find a serum for your skin type. Whether you want to enhance your glow, get rid of acne or combat stubborn wrinkles, adding a face serum to your rotation is an easy way to take your skin care routine to the next level. If you want to have a stunning complexion, look for a serum that addresses your biggest skin care woes and apply it daily. (Remember: Serums go underneath heavier products, like moisturizer and sunscreen.)

Makeup
Toss out expired makeup products. If you've been using the same blush and foundation for years, it's time to give them the boot. Expired makeup products can wreak havoc on your skin and cause problems such as irritation, breakouts and even infections. Be on the watch for telltale signs your makeup has gone bad, such as foul smells and changes in texture or appearance.
Switch to refillables. Packaging waste is a massive problem, especially within the beauty industry. Thankfully, more and more brands are launching refillable versions of our favorite makeup products to help reduce waste. While refillable blush and lipstick may be more expensive initially, they can help save money (and the planet) in the long run.
Seek out multipurpose makeup products. Instead of bulking up your makeup bag with dozens of different makeup products, look for all-in-one products that help you reduce waste and save money. For example, instead of buying individual coverage products, try an all-in-one coverage product that pulls triple-duty as a concealer, color corrector and foundation.
Watch a makeup tutorial. Struggling to perfect your winged-eyeliner? Wondering which eyeshadow goes best with your skin tone? Learn how to create gorgeous new looks with an easy, follow-along makeup tutorial on YouTube. Beauty YouTubers such as Michelle Phan and Makeup Geek (Marlena Stell) are a great source of inspiration and can help you transform your look free of charge.