Planning your future wedding is always going to be a very exciting time of your life. Beyond all the hype that comes along with it, however, there's also the preparation that you'll have to go through.
As you go through every single thing that you'll need for your wedding, the key tip is for you to remember the details. Even the most expert planners can accidentally overlook a few items, which is why it's helpful if you have a checklist.
If you're feeling a little too overwhelmed with all the wedding planning you have to accomplish, here's a list of must-have items:
1. Bridal Veil/Accessory
Your bridal veil or accessory shouldn't just be a last-minute thought, especially since not all bridal veils are of the same size, length, and style. The same goes for your hair accessory since these have to match your wedding dresses. All of these are going to be seen through all your wedding photographs, and you wouldn't want to end up with one that'll make your outfit look mismatched or distorted.
Here's how you can ensure that the veil you choose is also the one you'll be saying 'I do' to:
Try your chosen veil a few times and on different days so you aren't just deciding on an impulse.
Take test photos wearing the veil with your gown so you can see for yourself whether or not it matches.
Get a feel of how the veil or accessory is like on your hair–check if whether it's too heavy or not.
2. Bouquet
Flowers are an inevitable part of any wedding. Regardless of your wedding's theme, they add drama, elegance, and beauty. Moreover, you must also have a wedding flower bouquet for you and your bridal party.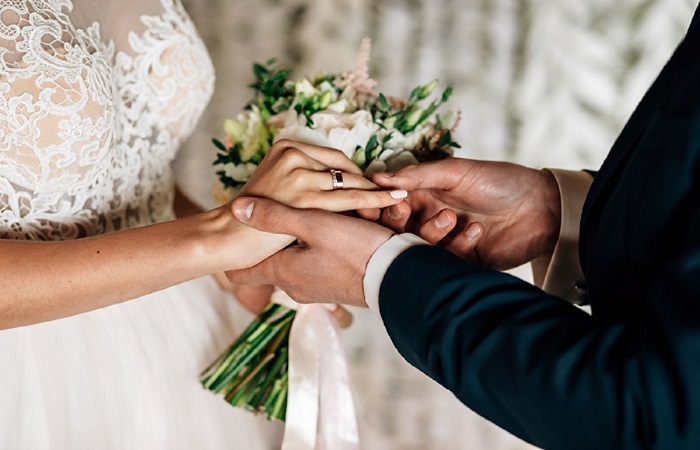 If you aren't careful, the cost of flowers can add up. But there are many ways for you to find beautiful flowers on a budget. One of which is to purchase from a reputable supplier, such as The Bouqs wedding services.
3. Wedding Favors
Wedding favors are always a part of every wedding as this constitutes your guests' souvenirs.
One of the most expensive but unique wedding gifts that you can get is an engraved glass bowl. This is a great way to make sure that your guests will remember your special day since it's something that they can use at home.
You can also give your guests a wedding favor with a wine glass engraved with their names on the side.
Get something different for your bridesmaids (and everyone in the wedding entourage). Customizable bridesmaid satin robes are great thank-you gifts for your girl friends. The robes don't only look good, but they can also be used for a long time.
To narrow down your options of wedding favors you can hand out to your guests, choose a souvenir that matches your wedding theme.
4. Place Cards
Not every couple thinks about having place cards on the tables. But this is a good way to ensure that every invited guest has their place. When there are place cards, it also makes it much easier for guests to find their tables and speed up the process. It's a small detail that improves the flow of your wedding celebration.
5. Jewelry
Another must-have item for your future wedding is bridal jewelry. This choice is a highly personal one as it'll depend on your preference and your gown's design. You should choose a unique piece of jewellery from heeracollections.com.au as they have an exclusive and affordable range of collections for all special occasions. Like your wedding veil and accessories, your jewelry is also something that you'll have to look for in advance.
Moreover, in some instances, you may be lucky that your mother or your future mother-in-law will hand you a piece of jewelry to wear on your wedding as a very special gift.
Just remember, however, never to overdo it. If you've got statement earrings, then you might want to keep your necklace and headpiece subdued, and vice-versa.
6. Photobooth
In more recent weddings, especially for the millennials, photobooths have become quite a common sight. Going back to the section on wedding favors, the photos from the photobooths, which can either be printed on a magnet or on ordinary photo paper, can also serve as a very special wedding souvenir.
Having a photo booth with a wedding backdrop flower wall is a great way to gather guests and get their amazing pictures clicked during the wedding. Or, perhaps, there are those who'd rather pose the night away than join everyone else on the dance floor.
Conclusion
While this list may not be exhaustive, it's a good start for you to ensure that you don't miss out on some of your essential items. After going through this list, you can also take it one step further by going through other lists as well. That way, you can have a personalized one, based on your wedding's theme, size, and even your preferences.