Cucumber is a vegetable with many advantages. It is good for the hair and contains many vitamins and minerals that help your hair grow well. And, it contains vitamins like A and C, silica, potassium, alkaline material, manganese, magnesium, and many other minerals. These vitamins and silica help you with hair growth.
Benefits of Cucumber for Hair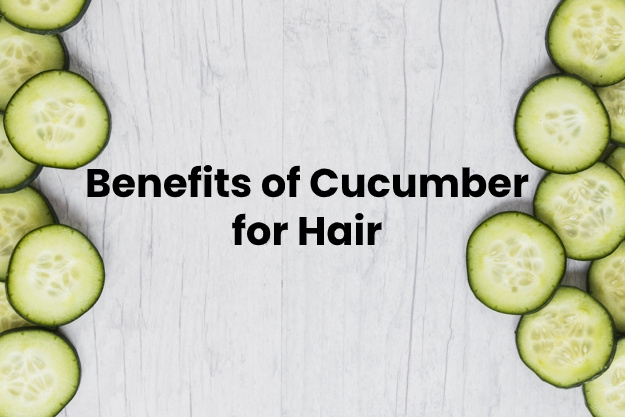 The juice of cucumber is very beneficial for hair growth.
If you wash your hair with this juice daily, you can get strong hair.
Minerals and vitamins in the cucumber help in the repair of damaged hair.
Washing your hair with a mild shampoo with cucumber,  gets your hair to shine.
Eating cucumbers can moisturize your skin and prevent hair fall.
How to Use Cucumber for Hair?
Here we introduce how to use cucumbers for the top 3 methods.
#1. Cucumber oil
Cucumber oil is perfect for your hair. This is good to avoid skin diseases like eczema, psoriasis, etc. And also, it has the ability to regrow your hair quickly. It is made from its seeds. In order to get all the nutrients, the seeds are cold-pressed. You can use this oil to hydrate your hair. Most hair problems are due to dryness. To avoid these problems, apply this oil to the hair.
How to Apply it?
After washing the hair, pat dry with a mild shampoo.
Apply cucumber oil to the scalp with your fingers. Make sure you apply in the area with less hair.
Just do it in a circular motion for some time. Massage your hair to increase circulation and thereby promote hair growth.
Make sure you do this twice a week for a good result. It is better to use a natural cucumber shampoo to avoid more hair loss while washing your hair.
#2. Cucumber Shampoo for Dry Hair
It is better to avoid artificial shampoo that can dry out your hair and distort its natural look. Because cucumbers have a good moisture supply, it is used in many shampoos and conditioners. They are good for keeping your hair looking healthy and sleek. Cucumbers can maintain the pH balance of the scalp, reduce dry flakes, and soothe the hair. This shampoo is suitable for dry hair.
How to Apply it?
Wash your hair and apply this natural cucumber shampoo to your scalp
And then, massage your scalp with your fingers for a few minutes
Make sure you can reach the entire area of your scalp with your fingers
Then wash your hair thoroughly with water
You can even reduce dryness and dandruff problems by using cucumber to wash your hair.
#3. Cucumber conditioner
Cucumber is perfect for healthy hair. You can use it to make shampoos and conditioners. The main reason for using it as a conditioner is its moisturizing properties. Therefore, it is always advisable to use a good hair conditioner that soothes your scalp. Potassium-N-cucumber promotes hair growth, and vitamins and minerals in olive oil make your hair healthy. Always better to choose a natural hair conditioner.
Ingredients-:
¼ peeled cucumber
1 egg
4 tablespoons of olive oil
How to Do it?
Make cucumber juice by putting it in a blender and straining if you like.
Mix egg and oil in a vessel and add this cucumber juice.
Mix it well, and your conditioner is ready to use.
How to use it?
Apply this conditioner to your dry hair and massage it well on your scalp.
Let it sit there for at least 30 minutes. 30 minutes later, wash your hair properly to get rid of this mask.
You can do it once a week to promote hair growth.
Final Words
Cucumber is a wealth of healthy use. You can even eat cucumbers for hair growth and reduce hair loss. Drink excess amounts of water to keep your skin hydrated. Hydrating your skin is essential to promote hair growth. All the vitamins and minerals in cucumber are vital for your hair.
Also Read: The Many Advantages of Botox – [2020]