Sulphate-free shampoo and paraben-free shampoos have gained immense popularity over the past few years. Social media too is bombarded with posts that recommend using sulphate-free shampoos for healthy and luscious hair.
But is there any truth in this or is it just another marketing gimmick? Before that, let's take a closer look at what sulphates and parabens are.
What are sulphates and parabens?
To put it simply, sulphates are the reason your shampoo forms a bubbly, foaming texture once applied. They are detergents or surfactants that wash away all the dirt, sebum and residue from your hair.
On the other hand, parabens act like preservatives that are added to prolong the shelf-life of hair care products and protect them from mould and bacteria.
Why should you avoid Sulphates and Parabens in shampoos?
Although sulphates help clean your scalp and hair well and parabens increase the shelf-life of your shampoo, they can be harsh. The scalp produces natural sebum-like oil which is known to be essential; and these chemicals can strip your hair off that natural oil, leaving it feeling very dry and brittle. It is also possible that sulphates could cause irritation like redness, dryness, and itching, especially if you have a sensitive scalp.
What are sulphate and paraben-free shampoos?
Well, as the term itself would suggest, sulphate and paraben-free shampoos are products that are devoid of any sulphate and paraben-based ingredients. They are crafted to cleanse your scalp and hair in a more mild and a gentle fashion.
How do they help?
1) Maintain Your Mane's Natural Oils
As mentioned earlier, shampoos with sulphates and parabens can remove your mane's natural oils leaving it dry and brittle. It can feel worse if you have dry hair. Godrej Professional's wide range of chemical-free shampoos cleanse your hair gently without stripping your hair of its natural oils, leaving your hair shiny and scalp moisturised.
2) Preserves Your Hair Colour
It's a bummer to have your newly coloured hair lose its shine and vibrancy a few months later, and you never know, shampoos with sulphates and parabens might just be the culprit for it. So, if you have coloured hair, you can opt for the Godrej Professional Keracare Repair Shampoo that is specially formulated for chemically treated hair.
Usage Recommendation:
Apply the Keracare Recharge Shampoo evenly on your scalp and wet hair.
Lather it at the roots and then slowly work it through the lengths of your hair.
Rinse well.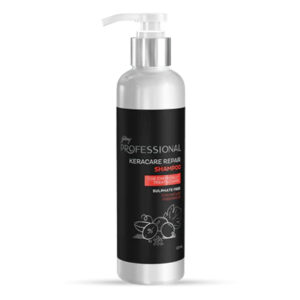 Enriched with the goodness of wheat protein and grapeseed oil, this sulphate-free shampoo is sure to improve your hair health by making it glossy and frizz-free. Grapeseed oil in the shampoo works to moisturise and condition the hair, thereby strengthening it and making it healthy. Wheat protein on the other hand repairs damaged hair, making them shiny and manageable.
3) Make Moisture Your Best Friend
If your hair is often tangled and frizzy, and it's hard to run your hands through them, chances are that your hair lacks proper hydration and moisture. The Godrej Professional Keracare Recharge Combo consists of a shampoo and a conditioner that are known to provide deep nourishing and hydration properties that manage frizz and adds an extra shine to your hair.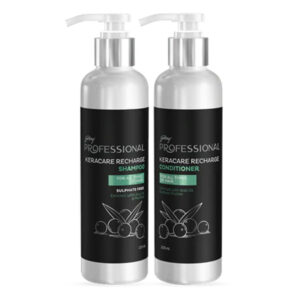 Usage Recommendation:
Apply the Keracare Recharge Shampoo evenly on your scalp and wet hair.
Lather it at the roots and then slowly work it through the lengths of your hair.
Rinse it well.
Acai oil and Menthol in the shampoo provide nourishment and leave behind a cooling sensation, while also cleansing the hair and scalp. The wheat protein in the conditioner on the other hand hydrates the hair while balancing the pH level, making the hair smooth and manageable. Use both the products at least twice or thrice a week for best results.
How do you know your shampoo is sulphate and paraben-free?
Just look for these in the ingredient list given on the packaging of your product and you will find out whether the product contains sulphates or not.
Sodium laureth ether sulphate (SLES)
Sodium lauryl sulphate (SLS)
Parabens
Phthalates
Triethanolamine (TEA)
Sodium Myreth Sulphate (SMS)
Ammonia Laureth Sulphate (ALS)
The Takeaway
Treat your hair with the best sulphate and paraben-free shampoos and transform your dull and damaged hair into healthy and luscious locks. They gently cleanse, protect and repair hair, leaving them feeling more nourished. So add these shampoos to your hair care routine and get ready to have a good hair day, every day!
FAQs
Frequently Asked Questions about Godrej Professional Sulphate-Free Shampoo
What makes our Godrej Professional products the best sulphate-free shampoos in India?
Our Sulphate-free shampoos are safe and suitable for all Indian hair types, including colour-treated hair.
Why choose Godrej Professional for shampoos?
All Godrej Professional shampoos are crafted keeping Indian hair in mind and can be used by both men and women. They are enriched with nourishing ingredients that guarantee strong, shiny, and smooth tresses.
Why are using sulphate-free shampoos more beneficial?
Using sulphate-free shampoo can be beneficial as they will not strip away the moisture and natural oils from your strands.
When will I receive my order after placing it on the website?
Products purchased from the website are generally dispatched within 1-4 business days (excluding Sundays and public holidays).
What should I do if the product comes in contact with my eye?
You must rinse your eyes with water immediately; consult a doctor if the irritation persists.