Envision an earring that wraps around the ear like a hug. These pieces exist and come with the name huggie earrings to describe how they function, and it is a perfect term for them. They adhere to the earlobe pattern and rest right on the ear. People often refer to the earrings as huggers, and most styles work with pierced ears. What makes them so popular with many ladies is the lack of an earring back. The earrings come with a hinge that locks the piece into place.
The Popularity of Huggie Earrings
Women have worn hoop earrings for centuries, but often find the earring back to be uncomfortable or unsuitable for another reason. Someone recognized the need for a different option and invented the huggie earring complete with the hinge. This makes the earrings more comfortable and easier for many women to wear for any length of time.
Females (and some males) find they can wear hoops once again without discomfort thanks to huggers. Jewelers continue introducing new styles, allowing every person to find that which best matches their style, preferences, and budget. Visit Adina's Jewels to see a few of the many styles offered today, as one will be right for your needs.
Variety
As jewelers realized the popularity of huggers, they opted to expand on their offerings. Today, women find they can purchase other earring styles with a hinge rather than a backer or stopper. The new and creative designs attract the eyes of many, and women should try several styles to find those they love and that flatter their appearance.
Furthermore, women find they can get huggers at a reasonable cost. Jewelers offer styles in a variety of metals, including gold, silver, platinum, and gold-plated silver. In addition, many styles incorporate purple gemstones to make them more unique. Ladies need to consider a range of styles to find those they love and want to wear regularly.
The Unique Design
The front and back loop of the earring connect with the help of the hinge found on each piece. When the earring closes properly, the wearer hears a clicking sound. If the wearer doesn't hear this click, the earring has not been secured and may come out. As the earring closes on itself, it serves as a continuous loop, eliminating the need for a stopper or backer.
Additionally, the earrings sit close to the ear. This means there is less risk of the piece snagging on clothing or hair, which many women find to be of great importance. They wear earrings with confidence, knowing they won't lose one of their favorite pieces. They'll feel a tug on their ear if the hinge comes undone and can fix the problem before they lose the earring for good.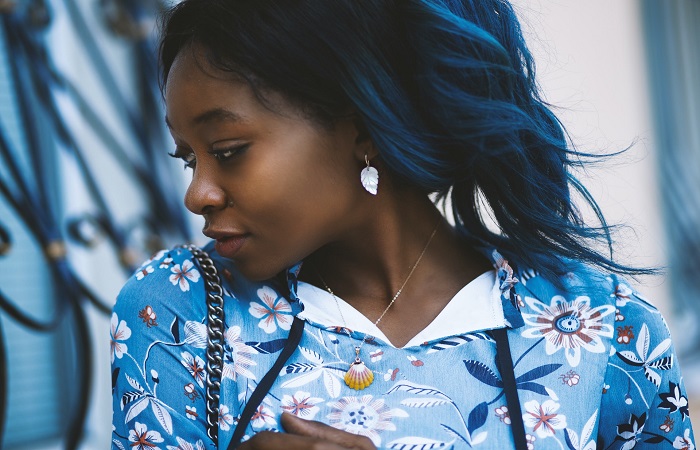 The Seamless Style
In the past, huggie earrings were generally thick hoop style earrings. Today, however, women find they can get these earrings in a wide range of sizes and styles. Pick up a small pair to wear at work and an enormous pair for a night out on the town. Heart and rectangular shapes remain popular with women, although some ladies choose other designs. It's all a matter of what the wearer likes and what goes well with the outfit being worn.
With hoops, people often see the back or stopper when a woman moves a certain way. This is true with hoops that close with the help of a hinge. This ruins the woman's overall appearance, but huggies eliminate this issue for good. As they sit close to the ear, the hinge remains hidden and the woman's appearance remains flawless. The finished look is pretty and seamless, and there is nothing to detract from the wearer's appearance.
The Benefits of Huggers
Women often choose jewelry pieces to look fashionable and sacrifice comfort in the process. When a woman wears huggie earrings, she gets the best of both worlds. She owns stylish earrings that remain comfortable enough for wear all day and all night.
Huggie earrings won't irritate the skin. Many times, women find their earring back continuously pokes them, and the slightest pressure can lead to a woman bleeding where the earring post poked her. Huggie earrings eliminate this concern, allowing women to focus on other things rather than protecting their skin from damage resulting from an earring.
In fact, women find these earrings to be so comfortable they can sleep in them without worry. It's not wise to do so, but some women doze off because they are tired and just need to close their eyes. When they do so while wearing huggies, they know their sleep won't be interrupted by an earring poking them.
Furthermore, women with long or fine hair quickly discover huggie earrings won't become tangled in their locks. There is no earring back for the hair to get caught in, and the hair won't become knotted and impossible to deal with. Trying to remove hair from an earring back can be painful, but women never need to worry about having to remove hair from a hugger. There's no open space for the hair to become entangled and no hair pulling to remove it.
Thanks to the many styles available, women find they can get a pair of huggers for any outfit they own. In addition, jewelers can custom make a pair for a woman when needed. This makes huggie earrings the perfect accessory for any occasion, including weddings or a day at the beach.
Huggie earrings remain popular today, and it is easy to see why. With so many options offered, every woman will find one or more pairs she loves and wants to wear regularly. The comfort of the pieces makes it easy to put the same pair on every day, but there's no need to do this. Purchase several pairs and rotate them, so you don't become bored. Once you see how comfortable the huggie earrings are, you'll never want to wear a pair with a backer or stopper gain. These pieces are simply that amazing.