Haircare can turn out to be a huge menace for most people at some time or the other in their lives. We all have been trying to deal with hair-related issues, be it hair fall or damaged hair. Massaging your mane with beneficial oils has been an age-old secret known and practiced by Indian women over several generations for achieving the much-elusive healthy luscious hair. Although oiling is essentially cumbersome work that makes the hair greasy and sticky, it is also one of the most efficient ways to keep it safe from the harsh polluted environment around us.
When it comes to nourishing dry, brittle hair, hot oil treatments are a popular choice owing to their additional relaxing effects. While one can go to the salon to get a hot oil massage, one can also try a do-it-yourself (DIY) treatment at home. Nowadays, more people are opting for a healthier and eco-friendly lifestyle. Organic hair oil is a go-to option for them which is infused with clean and green ingredients. Organic hair oils are formulated from plant-based resources which are typically grown on the fields. Visit https://juicychemistry.com/collections/oils to get the best organic oils for pampering your hair with a hot oil treatment at home. There are a plethora of reasons why the hot oil massage technique has stood the test of time and benefitted numerous people.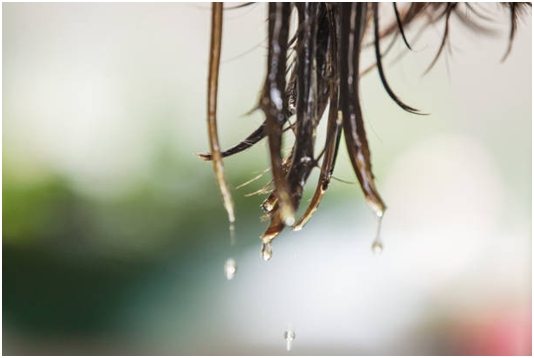 Pamper your hair with a DIY organic hair oil treatment.
Benefits of DIY hot oil treatment
Increases hair growth: Massaging your mane with hot organic hair oil like Chili Horsetail oil stimulates blood circulation in the concerned area, leading to a better distribution of nutrients to the hair follicles, which in turn aids in nourishment and strengthening of hair.
Dandruff prevention: Dry skin on the scalp is one of the prerequisites that leads to dandruff. Incorporating a regular hot oil treatment in your routine helps to keep the scalp nourished. The oil glands produce enough natural oil to keep the scalp healthy.
Reduces damage and frizz: Regular topical application of an organic hair oil intensely repairs the hair cuticles to fight damage and prevents split ends and hair breakage. It nourishes your tresses to bring out an inherent shine and imparts a lustrous texture to them. The layer of hot oil also forms a protective layer over the hair and prevents the harmful UV rays from damaging it. It also helps to manage unnecessary frizz.
Prevents premature greying of hair: Organic hair oil bears another important significance for aging people. The application of hot oil provides much-needed nourishment to the hair and the resulting blood flow to the hair follicles ensures that your hair retains its colour. It also forms a protective cover around the hair strands and protects it from pollution and the harmful effects of UV rays that can lead to hair lightening.
Stress-buster: Organic hair oil treatment especially using hot oil relaxes the mind and is an overall soothing experience.
Preparation of a hot oil massage
A DIY hot oil treatment at home is extremely hassle-free and also ensures visible results within a short span of time if followed religiously. Let us look into the steps that go on behind a wholesome pamper session for your hair.
Take a few tablespoons of organic hair oil into a glass bowl depending on the volume of your hair.
Fill a saucepan halfway up with water and place it on a stove. Place the glass bowl with the oil inside the saucepan and let the boiling water warm up the oil. This is the double-boiler method of heating oil.
Dip your finger into the oil to check its temperature and remove it from the stove at a satisfactory temperature.
Detangle your hair free of knots with the help of a hairbrush or wide-toothed comb.
Dip your finger into the organic hair oil and spread it evenly. Section your hair into two parts and start massaging your scalp with the oil in circular motions for a good 5-10 minutes until it is absorbed completely by the hair follicles.
Once the scalp is covered, take the remaining bit and apply it to your hair strands.
Allow the organic hair oil to sit in your hair for an hour or overnight.
Wash your hair with a mild organic shampoo and condition your hair for the best results.
There are a variety of organic hair oils that are available in the market today that comprises natural, green ingredients with negligible side effects and guarantees the holistic growth of the hair. Some common organic hair oils suitable for DIY hot oil treatment include Marula, Argan and Lavender Hair oil, Chili, Horsetail and Black Seed hair oil, Hibiscus, Amla, and Bhringraj hair oil, and Lemon and Peppermint hair oil. Hot air treatments work best for damaged, brittle hair that is prone to hair fall and dandruff. It helps to protect, nourish and boost hair growth. Although you can get a hot oil treatment at a salon, the same can be done quite easily at your own home.