If you are planning to organize your own party with colored powders or may be participating in a Holi Run and you are worried that there will be spots, you don't have to! We are going to tell you how to remove Holi powders from different surfaces so that you only have to worry about having fun.
As soon as you have these keys so that there is no trace of the colored powders. And you will want to jump in and organize games with Holi powders with friends or family and have a great time. Do you want to know the tips? Let's go there!
How to Remove Holi Color from 4 Different Surfaces?
4 major sites concern us all when it comes to participating in some fun activity with this type of material. Therefore, we have decided to dedicate a section to each of them, so you will know how to remove Holi powder from 4 different surfaces.
Removing Holi color from the Body
Surely this is one of the first things you have thought because obviously in activities with colored powders, we end up painted from head to toe, but you do not have to worry.
First of all, Holi colors are completely harmless to skin contact. So you do not have to fear if they enter your mouth. For example, they are made with food colors. You just need a few tips to know how to remove Holi color from the Body:
Before participating in the activity, it is a good idea to give yourself a moisturizer or oil on the Body. Since the particles will be embedded in that film that you apply and will not stick as much to the skin.
Shower with soap and hot water, if possible, without letting many hours pass since the activity with Holi powders has been practiced.
Do you see it? As simple as that! You just need a routine shower to remove Holi color from your Body.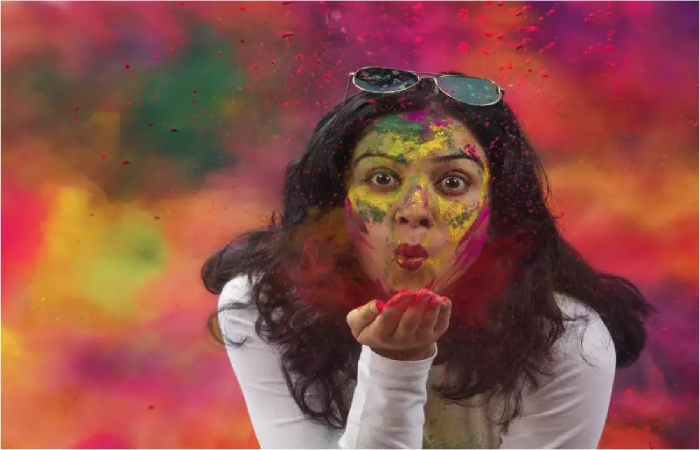 Removing Holi Color from Hair
In this case, there is only one issue to consider: the Holi colors are more likely to become embedded in colored hair. For this reason, a great tip to know how to remove Holi color from your hair is to give yourself before participating in the match or playing with some type of moisturizing hair cream, so it will also collect more particles and will be better eliminated.
On the other hand, if you are concerned, you can wear a cap. And if you have long hair, try to pick it up inside it. Also, in most activities, it is common to be dressed up, so putting on a wig can be fun while protecting your dye.
However, with shampoo and hot water, the color mixture has to go easily down the drain.
Removal of Holi Color from Clothing
An unwritten rule is that Holi color activities must be dressed in white. Why? Easy! The effect of all colors on us is highlighted more and is much more aesthetic and fun.
In this case, you can guess that knowing how to remove Holi color from clothing is not very complicated. However, do not show up in your best clothes, a basic shirt and pants to enjoy and carefree are much better.
As in the previous cases, the less time that passes from when you stain until you wash your clothes, the better that same day is ideal. Put them in hot water with soap powder before washing them, leave it there for a while, but don't forget!
Also, the good thing about it being white clothes is that if any stain resists you can always put the clothes in bleach suitable for those clothes, all advantages!
How to Remove Holi Dust from the Street or the Garden?
The gulal is the main element of any holiday Holi, but you did not know, it's biodegradable! So you don't have to worry if you plan to hold games at home. And don't know how to remove Holi dust from the lawn or any other surface.
Keep in mind that if it is on grass, the wind or the rain will end up taking the particles away. If it is on a porous surface, the dust can be embedded. For example, cement or tiles, but with rain or scrubbing, it would disappear. As in the previous cases, do not do it in an area where you would not like to stain at all. So you enjoy the game more.
Final Words
You already know how to remove Holi color from 4 surfaces! As you can see, you only have to worry about enjoying the activity you have in mind. And the rest is a piece of cake! Fill a day with color and enjoy like never before.
Also Read: The 5 Very Simple Hairstyles for a Bad Hair Day
READ MORE:- trendssandfas