Sunscreen for Oily Skin
Probably heard it time and again: Wear Your Sunscreen Daily!
Do not forget if you want to prevent sun damages, sunburn, redness, dark spots, and signs of aging. The only inhibition: The thick sunscreen clogs the pores leading to breakout, acne, and pimples.
For people with acne-prone skin or oily skin, this can be an absolute nightmare! However, your acne-prone skin needs more of that sunscreen you have been planning on skipping.
Why?
"Sunscreen is important because many acne medications make your skin sensitive to sunburn," says Joshua Zeichner, MD, director of cosmetic and clinical research at Mount Sinai Hospital. "The right sunscreen can give a mattifying effect and protect the skin without worsening breakouts."
Make Sunscreen your BFF even if you have oily skin!!
Sunscreen and Oily Skin
When you are exposed to the sun, you are undoubtedly exposed to harmful rays like UVA, UVB, IR, and HEV rays from the sun. The constant exposure increases the chances of skin cancer and skin aging.
The effective sunscreen that helps battle all these rays is with a good SPF and broad-spectrum range. Where SPF fights the UVB rays, on the other hand, the Broad spectrum aims at other harmful rays like UVA, IR, and HEV rays.
With your oily skin, perhaps, you are into medications that have compounds making your skin sensitive, exclaiming how important sunscreen is for your skin! Yes, it can be tempting to give up on sunblock with oily and acne-prone skin. Inadvertently, you end up causing damages to your skin like photosensitivity, and skin cancer.
How Sunscreen Causes Acne?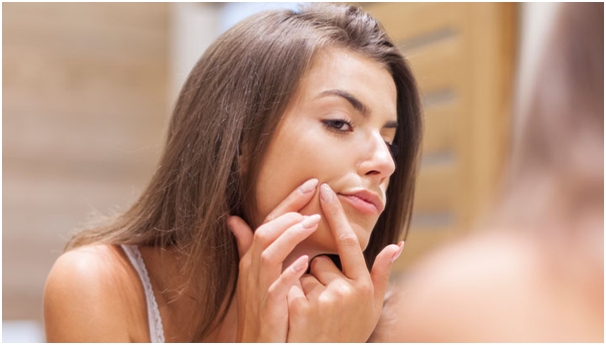 Every Sunscreen is formulated differently. And, some can be too much for your skin! If you are already into your favorite sunscreen, then check for the comedogenic materials in it.
These comedogenic materials cause occlusion of pores, further leading to breakouts, acne formation, and pimples. Thus, avoid using heavy and oily sunscreen with heavy and oiliness in it.
Another aspect giving a rise to a breakout on your skin is when you are sensitive to the UV inhibiting ingredients. The active ingredients, an emollient, or a preservative used in the sunscreen might be responsible.
These ingredients can cause irritation, contact dermatitis, allergic reactions, or hypersensitivity. All these show up in the form of red bumps or itchy rashes.
How To Prevent Acne While Wearing Sunscreen?
But, folks, here is a piece of good news: You can Prevent Acne while wearing Sunscreen! Just keep a few points in mind.
First, Check up the label: ALways make sure to check if your sunscreen contains comedogenic materials or not- avoid the one that does. It should say "non-comedogenic"- meaning that it has been well tested to not clog your pores and give rise to breakouts or acne. Or, you may look for two non-comedogenic ingredients like titanium dioxide and zinc oxide.
Second, Attention to Ingredients: The oils in the sunscreen are more susceptible to clogging of pores leading to acne. And, the mineral ones may irritate the sensitive skin type leading to an inflammation on the skin. So, it is best to look for emollient-rich ingredients like vitamin E, coconut, lanolin, beeswax, soybean oils, and cocoa butter.
Third, Sway away from Chemicals: The most important thing to note- your sunscreen should be free of harmful toxic chemicals like sulfates, silicones, phthalates, and parabens.
Fourth, Be wary about the storage: Make sure to store the sunscreen as advised and do not expose it to high temperatures and conditions. This leads to the reaction of ingredients or chemicals in the sunscreen making it ineffective and probably allergic to the skin. Keep a check on its expiry date too.
Tip: Prefer Double cleansing for acne-prone or oily skin.
Best Sunscreen for Oily Skin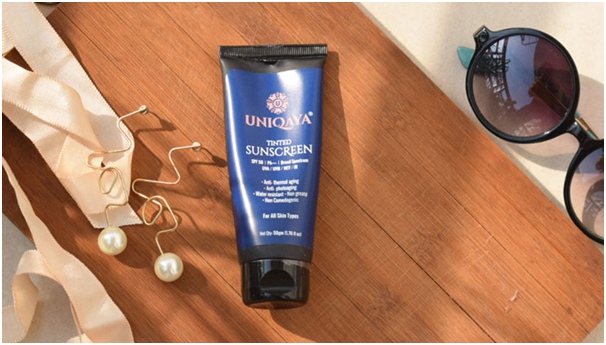 The best sunscreen for oily skin shall be lightweight, airy, and easily absorbed into the skin. Being a non-negotiable part of the skincare club for all the right reasons- here is Uniqaya Tinted Broad Spectrum Sunscreen with SPF 50 PA+++.
This lightly tinted waterproof formula of the hand-picked ingredients enables the sunscreen to perform 3 in 1 action- it protects the skin from the harmful rays; it nourishes the skin with the right nutrients; and it keeps the skin hydrated all day long for youthful skin, doing wonders not only for oily but all skin types.
Its main ingredients are Artichoke Extract, Avocado Oil, Lycopene, Carrot Seeds, and Vitamin F. The titanium dioxide and zinc oxide make it non-comedogenic, thus, perfect for oily or acne-prone skin.
With Broadspectrum SPF 50 PA+++, it protects the skin against all kinds of harmful rays emitted by the Sun, as well as against the blue lights emitted from the gadgets. Additionally, the ingredients are potent enough to ward off environmental stressors like pollution, dirt, and impurities.
Apply a generous amount of sunscreen on your face, and body and have a mattifying experience, and a non-greasy and non-chalky feel for good 4 hours (2 hours more than regular sunscreen).
Give your skin a hint of color for a protected, glowing, healthy complexion with Uniqaya Sunscreen, perfect for all-day use!